Morrissey saga continues
Private rift plays out in public over weekend
Debora Timms | 1/19/2023, 6 p.m.
In an emotional interview with the Richmond Free Press on Wednesday night, Myrna Morrissey shared her fears following a weekend in which allegations of child abuse and infidelity exploded into the public view.
Mrs. Morrissey's estranged husband, Sen. Joseph D. "Joe" Morrissey, D-Richmond, issued a statement on social media Friday saying he had discovered welts on his young son's buttocks the previous night. According to the statement, the three children he shares with his estranged wife, 7-year-old Chase, 6-year-old Bella and 4-year-old Maverick, told him that their mother's boyfriend had beaten Maverick with a belt "for being disrespectful."
Mrs. Morrissey says these accusations are false.
"I'm not playing here because these are my children — my kids," Mrs. Morrissey said. "I know I didn't do anything wrong and I didn't allow anything to happen."
Without naming names, a Chesterfield County Police statement confirmed a report "regarding a child who may possibly have been assaulted by an offender known to him" was being investigated by a detective in their Special Investigations Unit.
Police also served an emergency protective order on Saturday. While these orders typically expire after 72 hours, an extension can be requested. Mrs. Morrissey confirmed that Sen. Morrissey did file to have the order extended.
"I can't really comment on how the case is progressing, but I can say that it is moving really quickly," Mrs. Morrissey said. "That is instilling fear in me because things are not being properly communicated to me."
When reached by phone on Tuesday night, Sen. Morrissey stated, "I have no intention of commenting to anyone in the media. There has been some major developments today, so I would just say 'Make sure you get your facts straight.'"
Those developments appear to be what Mrs. Morrissey confirmed—that Tuesday's court proceedings resulted in the extension being granted; however, she says she was not given notice of the decision or served by police. In fact, she says police told her "nothing was showing in the system" when she contacted them that evening.
"I was contacted by [Child Protective Services] [Wednesday] morning," Mrs. Morrissey said. "I wanted to know if there had been an extension granted and they also said they were unsure, but then hours later they confirmed that it had."
She added that her children are supposed to attend a forensic interview on Thursday and that she was informed that she can attend, but she says she hasn't been told the time or location of the interview.
"Why am I not being communicated with?" Mrs. Morrissey said. "I'm still a parent and I still have rights.
"I'm being told that I need to remain calm; I need to take a step back, but I have to speak up because if I don't then this will continue. There are things that are being handled wrong and it has to be known. I am scared."
Part of the advice to step back seems to relate to Mrs. Morrissey's initial response to the abuse allegations on Instagram. She not only denied them, she made her own accusations of serial infidelity and mistreatment in a series of since-deleted posts that called her marriage to the senator "the biggest mistake of my life."
In one post she wrote, "because you can't have me the way you want and that I really moved on with my life he would stoop so low as accusing me and someone close to me of abusing my child! Anyone that knows ME, knows what a damn good mother I am to MY children."
The relationship between the two started in 2013 when Mr. Morrissey was in his mid-fifties and the-then Myrna Pride was a 17-year-old receptionist in his law office.
The two married in 2016; however, the now 65-year-old senator was convicted of contributing to the delinquency of a minor in December 2014. He served three months in jail and was disbarred from practicing law. In 2022, outgoing Democratic governor, Ralph Northam, issued a pardon.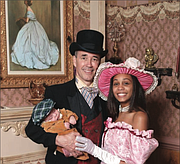 Mrs. Morrissey, who is now 26, has publicly stated she separated from her husband in 2019, the year he was elected to the state Senate representing District 16. She is planning to divorce the senator, something which she suggests may be related to his allegations now.
Mrs. Morrissey finished the interview by sharing her concerns once more.
"It is important that I voice that the way this has been handled has been one-sided and unfair."