Personality: Tiya Williams
Spotlight on Richmond Metropolitan Habitat for Humanity board chairman
7/27/2023, 6 p.m.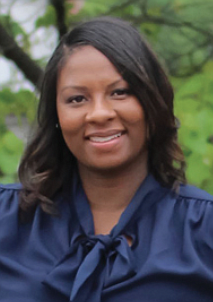 Tiya Williams, a board member of Richmond Metropolitan Habitat for Humanity since 2015 and the outgoing board chair, knows from personal experience the life-changing effect the nonprofit can have on people's lives.
Following her parents' separation, a young Tiya moved with her mother and her three siblings from Tennessee to their grandmother's home in Cape Charles. She later moved to New York to be with other family members. A reconciliation brought the family back to the Richmond area when Ms. Williams was about 12 years old, but her parents later separated again and eventually divorced.
Ms. Williams said that even though they struggled financially, her mother, Sudie Williams, always modeled strength, resilience, a big heart and a beautiful spirit. The family went from homelessness and living with family to Section 8 housing and homeownership when they became a Habitat for Humanity partner family in 1995.
"My mother still owns that home- has it paid off and still lives there," Mr. Williams said. "To see that dream become a reality for my mother absolutely changed what I believe to be possible. Having our own home allowed me to have a sense of pride and feel that I was on a more level playing field with my peers."
Habitat for Humanity International was founded by Millard and Linda Fuller in 1976 in Americus, Ga. It grew out of a concept of "partnership housing" where people in need of adequate shelter worked alongside volunteers to build decent, affordable homes. Over the years the organization has grown to have more than 2,100 active affiliates in 100 countries.
In 1986, Richmond Metropolitan Habitat for Humanity was founded to provide affordable housing and critical home repairs in Richmond and Henrico and Chesterfield counties. Over the past 37 year, more than 380 homes have been built and sold to area families, and more than 120 critical home repairs have been completed.
"Housing has major positive impacts on a family - from education, to health, to financial stability," Ms. Williams said, noting that one of the nonprofit's biggest challenges in Richmond is expanding its ability to do more during a national housing crisis.
Getting more people involved as volunteers will help resolve part of the challenge, she said. Financial gifts or donating gifts-in-kind, land, vehicles, and more also are needed.
One of the more innovative ways Richmond Habitat helps uplift the community is through its involvement with "The Skipwith-Roper Homecoming."
This effort by The JNX Project seeks to share the story of Abraham Peyton Skipwith, considered "The Founding Father of Jackson Ward," and recreate Skipwith-Roper Cottage, which is one of the city's oldest documented dwellings, as a historic site.
Sharing stories and experiences such as Ms. Williams' own also is encouraged.
"I always had so much pride and joy to volunteer," Ms. Williams said. "It was my way of giving back and saying thanks to an organization that did so much for us."
Meet a housing advocate and this week's Personality, Tiya Williams:
Volunteer position: Outgoing board chair, Richmond Metropolitan Habitat for Humanity.
Occupation: Real estate agent and owner of Arshon Consulting LLC.
Date and place of birth: Nov. 28 in Memphis, Tenn.
Where I live now: North Chesterfield
Education: Bachelor's in sociology, University of Virginia; master's of business, Strayer University.
Family: Daughter, Kyla, 14.
Richmond Metropolitan Habitat for Humanity is: Seeking to put God's love into action, by bringing people together to build homes, communities and hope. Richmond Habitat provides affordable housing and critical home repairs in Richmond and Henrico and Chesterfield counties.
When and why founded in Richmond: Richmond Habitat was founded in 1986 with the intention of bringing more affordable housing to our community.
Richmond Habitat founders: Richmond Habitat was formed by a group of volunteers at Aunt Sarah's Pancake House. Founding members included Ineka Mitchel, Charles Cochran, Ruth Shaver and George Comstock.
Why I accepted position as board chair: I was asked to join the board to offer a unique and diverse prospective having been the child of a Habitat homeowner.
No. 1 goal or project as board chair: To expand our reach and recognition locally while navigating COVID-19 and changes in leadership.
Strategy for achieving goals: Prioritizing our Capital Campaign, emboldening our board to share more of the Richmond Habitat story in their own words.
Funding for Richmond Habitat: Funding comes from donor contributions (in-kind and cash), grants, ReStore income, mortgage income and neighborhood revitalization homes sales.
How Richmond Habitat makes a difference in a family's life: By providing the opportunity for safe, afford- able housing to individuals who may not have any other options. Housing has major positive impacts on a family from education, to health, to financial stability.
How to become a Habitat volunteer: Find opportunities for volunteering at our home build sites, at our ReStores, and more at richmondhabitat.org/volunteer
Skills needed: No skills are needed to volunteer! Training is provided on site.
Biggest success story that I have witnessed through our work: The countless families whose lives have been drastically changed in many ways — financially, educationally, socioeconomic standing, confidence-building, etc.
Diversity, equity and inclusion and anti-racism and Richmond Habitat: Are imperative issues that we are focused on addressing, having established a Social Equity Committee.
How to access Richmond Habitat's services: Those looking to learn more about homeownership or critical home repairs can visit RichmondHabitat.org to learn more.
Upcoming events: Habitat's Summer Rom-Com Movie Challenge on July 27, Harmony and Hope for Habitat on Aug. 7, Buildable Hours Competition from July to August, PRIDE Build, Unity Build, and Home Dedications. Visit richmondhabitat.org/events/ to learn more.
How I start the day: Thankful, centered and focused on priorities of the day.
A place called home to me is: Anywhere my daughter and mother are.
The three words that best describe me: Resilient, caring, and honest.
If I had 10 extra minutes in the day: I would sleep.
Best late-night snack: Popcorn.
The music I listen to most is: Gospel and '90s R&B.
Something I love to do that most people would never imagine: While on vacation, explore areas where the locals live.
A quote that inspires me: "Trust in the Lord with all thine heart and lean not unto thine own understanding. In all thy ways acknowledge Him and He will direct thy path."
At the top of my "to-do" list: Getting my nonprofit to assist eighth through 10th-graders with their career aspirations off the ground and running. It's something I've wanted to do for almost 20 years.
The best thing my parents my parents ever taught me: To offer respect and kindness to any and everyone, regardless of their circumstances.
The person who influenced me the most: My mother, Sudie Williams.
Book that influenced me the most: "Are You There God? It's Me Margaret" by Judy Blume. I read it during a critical time in my life and it taught me a lot.
What I'm reading now: "Healing, Blessings, and Free- dom: 365-Day Devotional and Journal" by T.D. Jakes. It keeps me grounded and centered and offers me guidance in my daily life.
Next goal: Purchasing my next investment property.