Denver reaches Finals ... finally
Nuggets face the Heat in best-of-seven June 1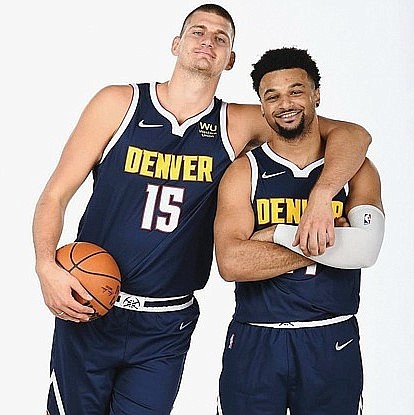 Denver is known as "The Mile High City" and its giddy basketball fans are starting to feel like they're walking on clouds.
Finally, the Denver Nuggets have arrived somewhere they've never been before — the NBA Finals. It's the franchise's first trek to the Finals since joining the NBA 47 years ago.
By sweeping the Los Angeles Lakers, Denver will play Miami in the best-of-seven Finals starting June 1 at Ball Arena (elevation 5,280 feet — one mile high).
The thin mountain air is the Nuggets' "sixth man" on the court. More accustomed to the difficult breathing, Denver was 34-7 at home during the regular season and is 8-0 on home boards in playoffs.
Now the basketball world will see the team in Midnight Blue and Sunshine Yellow on the sports' brightest stage. To get there, the Nuggets had to take down LeBron James and the Los Angeles Lakers in the Western Finals.
"Mr. Triple Trouble," Nikola Jokic, was sensational, as usual, in the four-game sweep.
The 28-year-old, 6-foot-11, 284- pound native of Serbia had 30 points, 14 rebounds and 13 assists in Game Four, notching his eighth triple double of this playoff season. That tops the old mark of seven held by Wilt Chamberlain.
Jokic arguably ranks with the most dominant offensive centers in NBA annals and certainly in his own era. He was league MVP in 2021 and 2022, and runner-up to Philadelphia's Joel Embiid this season.
He averaged 25 points, 11 rebounds and 10 assists during the regular season. His postseason averages are 29 points, 14 rebounds and 11 assists.
Next in line statistically for the Coloradans is 6-foot-4, Canadian born Jamal Murray, the Nuggets' 2016 first round pick out of Kentucky.
Murray has averaged 27 points, six rebounds and six assists during the playoff run.
Denver has been close to the Grand Finale before. They previously lost in the Western Finals in 1978, 1985, 2009 and 2020.
The franchise was born in 1967 as the Denver Rockets of the ABA. The Rockets were replaced by the Nuggets in 1974. Denver joined the NBA in 1977.
Denver, Charlotte, the Los Angeles Clippers, Memphis, Minnesota and New Orleans are the current NBA members without a Finals ring.