June is Pride month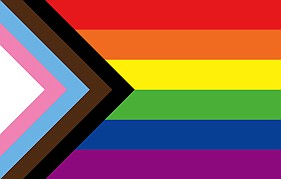 Richmond once again is raising the Progress Pride flag over City Hall to open Pride Month in the city.
Mayor Levar M. Stoney was scheduled to preside over the ceremonial flag-raising 10 a.m. Thursday, June 1, to mark the city's support of the LGBTQ community.
In addition, the city is joining with Richmond-based Virginia Pride to present a free concert 7 p.m. Friday June 2, at the 17th Street Market in Shockoe Bottom to celebrate Pride Month.
Lesbian, Gay, Bisexual and Transgender Pride Month (LGBT Pride Month) is celebrated annually in June to honor the 1969 Stonewall riots, and works to achieve equal justice and equal opportunity for lesbian, gay, bisexual, transgender, and questioning (LGBTQ) Americans.
In June of 1969, patrons and supporters of the Stonewall Inn in New York City staged an uprising to resist the police harassment and persecution to which LGBT Americans were commonly subjected. This uprising marks the beginning of a movement to outlaw discriminatory laws and practices against LGBT Americans.