Maryland church, with $100,000 in vandalism damage, continues in faith
6/29/2023, 6 p.m.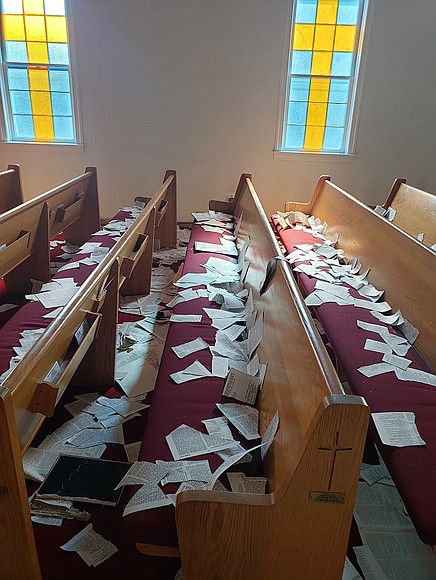 The Rev. Jerome Jones Sr. is shocked by two things: the extensive vandalism that took place in his church building in Maryland's capital in early June and the outpouring of support Fowler United Methodist Church has received in the aftermath.
On June 8, the red-carpeted sanctuary of the historically Black church was turned into a debris-filled space, with items once sacred ripped apart and an estimated $100,000 in damage.
"Nothing but paper — it looked like snow around our whole entire sanctuary," said Rev. Jones of pages that were torn from Bibles and from hymnals that had been in the pews, whose upholstery was ripped when a wooden cross was torn down and tossed onto them.
"When we do our offering, we always lift our hands towards the cross for God to receive our offering," explained the pastor since 2021 of the Annapolis church founded in 1871.
In recent weeks, congregants had to rethink that longtime tradition: "I told them the cross is in their hearts."
Marc Limansky, a spokesperson for the Anne Arundel County Police Department, said police are investigating the vandalism and burglary at the church in what is considered by law to be a hate crime. As of midday Tuesday (June 27), there had been no arrests in the case.
"It's just a violation of sanctity," Limansky said of the incident, described in a news release as "significant damage" to the church's interior. "I know they're working hard on it."