'Blessing of Elders' lauds 7 Black Christian luminaries at Museum of the Bible
Adelle M. Banks/Religion News Service | 6/30/2022, 6 p.m.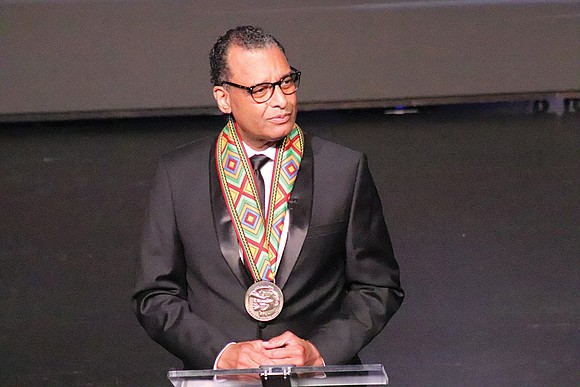 WASHINGTON - Well-known names from the world of gospel music and the Black church gathered at the Museum of the Bible to hail the contributions of African-American churches and to call for continued efforts toward building unity and bridging divides.
The "Blessing of the Elders," an awards celebration held June 23 just blocks from the U.S. Capitol, specifically honored seven leaders known for their contributions in megachurches, denominational leadership, civil rights, music and religious broadcasting.
The Rev. A.R. Bernard, an honoree and a Brooklyn, N.Y., pastor, described the Black church, in its varied expressions, as a repository of Black culture in America.
"Embracing Christianity, Blacks didn't seek to imitate white Christianity — oh no, instead we created a parallel religious culture, our own brand of Christianity with our own hymns, music, style of worship, much influenced by the challenge of slavery," Rev. Bernard said in the museum's World Stage Theater.
Jon Sharpe, the museum's chief relations officer, and the Rev. Tony Lowden, pastor of the Georgia church where former President Jimmy Carter is a member, took the stage to explain how the predominantly Black gathering came to be.
Mr. Sharpe said he had a vision two decades ago that "the Black church is going to lead spiritual renewal in America."
The museum executive, who is white, shared his idea over dinner with Rev. Lowden, an African-American man who had attended a 2020 fatherhood conference at the museum. The museum opened in 2017. Rev. Lowden said the concept — which Rev. Bernard now calls a "movement" — resonated with him.
"There was a move that we had to answer, asking us to come together, go around the nation to talk about how we can bring the Black church together to lead," Rev. Lowden said.
Over the course of the more than three-hour ceremony, coming together and overcoming were recurrent themes.
"The only way we can go forward now is with 'love one another,'" said honoree John Perkins, a civil rights veteran and reconciliation advocate.
Other honorees included Shirley Caesar, known for her award-winning gospel singing."
Bishop Vashti McKenzie, the first woman prelate in the more than 200-year-old African Methodist Episcopal Church; and Bishop Charles E. Blake Sr., the former top leader of the Church of God in Christ.