Miles Harvey assists on and off lacrosse field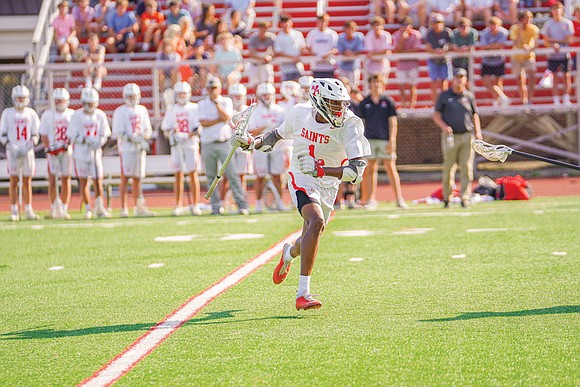 Need someone to score a lacrosse goal for you? Call Miles Harvey. Need an assist for a goal? Call Harvey.
Need a warm winter coat? Dial Harvey again.
The St. Christopher's School senior has drawn rave reviews for his talents on the pitch while also coming to the rescue of many underprivileged Richmonders.
"I could talk all day about Miles," said St. Chris Coach John Burke. "He's as good as it gets ... humble, kind ... and works hard at his craft."
St. Christopher's midfielder really stands out in lacrosse
In between St. Christopher's competitions, Miles Harvey, who is Black in an overwhelmingly white sport, sharpens his lacrosse skills with travel teams such as Next Level Richmond Hawks, Next Level Spartans and Nation's United, an all-minority outfit.
Asked about Black role models, he struggled to come up with two: former pros Myles Jones and Kyle Harrison.
He concedes he attracts stares for his skin color as well as his superlative play.
"I think I'm held to a higher standing," he said. "My mistakes, my bad plays are more scrutinized.
"But that only motivates me to play better."
When he tells new acquaintances that he plays lacrosse, Jones is aware of the funny looks.
"At family gatherings, people would say, 'You gotta play football, basketball, run track,'" he said.
"I respond, 'Why not lacrosse?'" He makes a good point. Why not?
As a junior, the 6-foot-2, 185-pound midfielder scored 33 goals, assisted on 14 others and was selected to the All-Prep League and Times-Dispatch All-Metro first teams.
The Saints went 16-7 a year ago, advancing to the Virginia Independent Schools semifinals. Much more is expected this season with many of the headliners returning from '23.
The 17-year-old will open his senior year wearing jersey No. 1 and serving as squad captain.
"This season, as a senior, I feel I'll be more of a go-to player ... asked to do more ball handling," he said.
After that, the Glen Allen resident will continue swinging his stick with schol- arship assistance at High Point (N.C.) University of the NCAA Division I Big South Conference.
Now about those coats.
As president of St. Chris' Missionary Society, Harvey coordinated a "Coat Drive" that resulted in some 80 winter wraps for the area's needy, as well as food and other supplies.
Harvey worked together with the school chaplain and with 5Lobes.org, a community service group.
The son of Rodney and Sonya Mills- Harvey has been attending St. Chris since sixth grade.
While he dabbled in other sports, he fell in love with lacrosse around fourth grade with a private club called Geronimo.
As a ninth-grader, he made the St. Chris varsity team and has been a regular since then.