Personality: Scottessa A. Hurte
Spotlight on Metropolitan Business League board chair
3/2/2023, 6 p.m.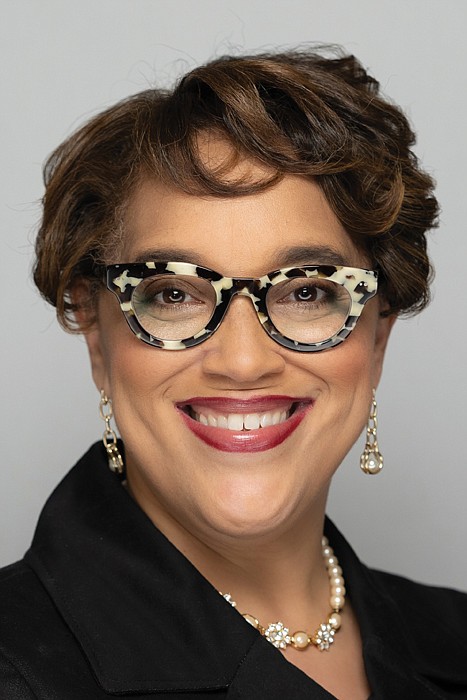 Scottessa A. Hurte has been a source of aid and guidance for Virginia's small, women and minority-owned businesses during years of struggle.
Several years ago, the Georgia native was appointed as chair of the board of directors for the Metropolitan Business League, putting her at the forefront of addressing COVID-19's effects on the state's women and minority-owned businesses.
For anyone in that position, the challenge would be immense. But for Ms. Hurte, who joined the board around 2016, the appointment gave her the chance to further MBL's contributions and the work of its late president, Oliver Singleton.
"It was important to me to be there to help continue to build the organization in a positive direction for all SWaM businesses," Ms. Hurte says, "and to build our relationships with our corporate partners."
Ms. Hurte knows all too well the obstacles businesses can face, as she also is president of Medical Staffing 360, which provides health workers for organizations throughout the country. She brings the same organizational skills and focus she has honed to her chair term, with a strategy built on putting the right people in the right roles to complete goals.
From increasing MBL membership, restarting its Advisory Council and building connections with corporate partners, Ms. Hurte's leadership has assisted many businesses in need of aid.
At the height of the COVID-19 pandemic, Ms. Hurte says MBL quickly adapted to the challenges the virus presented for many businesses as they sought to continue operating.
This included a switch to virtual operations, combining finances with larger organizations and ensuring members were aware of aid inside and outside MBL.
"Whereas most nonprofit organizations almost stopped their existence, MBL thrived during COVID," Ms. Hurte says.
Ms. Hurte's term as board chair ends this year, but she looks forward to continuing to participate in MBL, and intends to fully support the next board chair as MBL's immediate psst chair. She also expects MBL to continue its role as a critical partner with several area and regional institutions and organizations.
"At this moment, small, women-owned, and minority businesses are what keeps the economy moving," Ms. Hurte says. "They need support, planning, access to capital, and so much more."
Meet a big advocate for Virginia's small businesses and this week's Personality, Scottessa A. Hurte:
Volunteer position: Chair, board of directors, The Metropolitan Business League.
Occupation: President, Medical Staffing 360, LLC.
Place of birth: Athens, Ga.
Where I live now: Ashland.
Education: Bachelor's in business administration, The University of West Georgia.
Family: Husband and a daughter, 4.
The Metropolitan Business League is: A nonprofit, membership-based business association with a mission to promote economic prosperity in Virginia through education, advocacy, access to resources, and building relationships for small, women-owned, and minority-owned businesses. It has been in existence for 53 years. The MBL covers the entire central Virginia region with offices in Shockoe Bottom and in Petersburg. The MBL currently has over 1,000 members.
When and why founded: It was founded in 1968 out of necessity because at that time African-Americans were not allowed to join the Chamber of Commerce.
Founders: Garfield Childs Sr.; Stafford Flowers; M.A. Motley Sr.; and Neverett A. Eggleston Jr.
How I became involved with The MBL: Through my work with an MBL board member.
When elected board chair: 2019.
Why I accepted the position: I wanted to move the organization forward and continue the legacy of Oliver Singleton. It was important to me to be there to help continue to build the organization in a positive direction for all SWaM businesses, and to build our relationships with our corporate partners.
No. 1 goal or project as board chair: My goals were to increase membership, restart the Advisory Council, and the fostering of relationships with corporate partners. Some are ongoing, but most have been increased or completed. My next goal is to continue building upon our strategic plan that will take the MBL through the organization's next 53 years.
Strategy for achieving goals: To ensure the right people are in the right positions to accomplish the goals set.
The MBL is especially important in this moment: At this moment, small, women-owned, and minority businesses (SWaM) are what keep the economy moving. They need support, planning, access to capital, and so much more. The MBL provides all of this to our members.
Number one challenge facing the MBL: The MBL is always working to secure additional funds to grow and expand.
Ways I have witnessed The MBL make a difference for Richmond Black businesses: During the height of the COVID-19 pandemic, The MBL helped Richmond Black businesses through the We Care Recovery Grants, and we helped our members
through Resurgence Grants. We have helped several storefront businesses update their looks. Presently, we have a capital access manager who is crucial in helping small businesses find the funds that they need to continue growing.
Membership of The MBL:The MBL is comprised of many ethnicities, and we embrace our role in helping all small, women-owned, and minority-owned businesses. Our membership represents that diversity.
Benefits of a business owner being affiliated with The MBL: As a business owner, the MBL provides the tools necessary to help a person start or grow their business. From business planning all the way through succession planning, the MBL provides support. The MBL helps a business with marketing, resources to capital, and so much more.
How to get involved: Just go to the website, thembl.org, and sign up. You can also call the MBL's office to talk to someone about membership as well. Our website also has a number of events that non-members can attend as well.
Upcoming events: On March 10, the MBL will host our 2023 MBL Awards Dinner & Reception. The theme is "MBL Wall Street." It is going to be an amazing event celebrating the success of members, partners and business leaders in the region.
How I start the day: I start the day off with a silent prayer asking God to guide me through the day to make the choices that will be pleasing to him. That helps me put my best foot forward to start the day.
The three words that best describe me: Passionate, resilient, risk taker.
Best late-night snack: Pretzels and ice cream.
How I unwind: I spend time with my family watching Disney movies and hanging out with my Dinner Club.
Something I love to do that most people would never imagine: I love to go sports fishing! My favorite fish to catch are mahi mahi, barracuda and striped bass.
A quote that I am most inspired by: "Success is not final, failure is not fatal: it is the courage to continue that counts." – Winston Churchill
At the top of my "to-do" list: Self care.
The best thing my parents ever taught me: To treat everyone the same no matter who they are or what they do.
The person who influenced me the most: My grandmother, Scott Moon.
Book that influenced me the most and how: "Slay Like a Mother: How to Destroy What's Holding You Back So You Can Live the Life You Want" by Katherine Wintsch. The book shows that it is OK to fail and to give yourself some slack. Get out of your own head and know that you can do anything.
What I'm reading now: "The Light We Carry" by Michelle Obama
Next goal: Finish my term and leave the MBL ready for the next chairperson to continue moving the organization forward.