Cicilia Koisenke visits Richmond to nurture her Maasai home
Debora Timms | 3/16/2023, 6 p.m.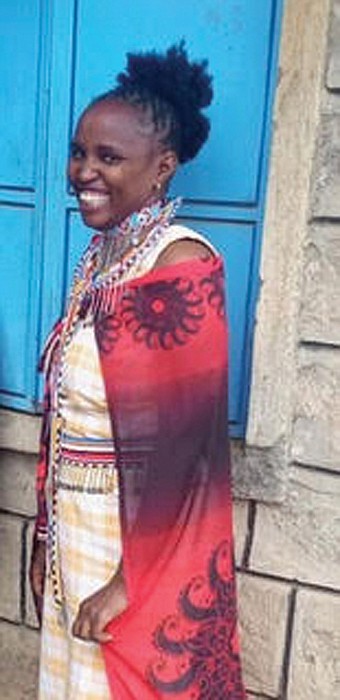 Nearly 14 years ago, Richmonder Suzanne Hall traveled to Southern Sudan as part of a St. James's Episcopal Church medical mission to administer meningitis vaccinations to children in that region.
At the time, meningitis "was moving in a wave across Uganda and Sudan," Ms. Hall, former director of stewardship and development at St James's Episcopal, recently recalled.
After stopping in the Maasai Mara village with the medical team, Ms. Hall visited a Maasai marketplace that featured traditional beaded jewelry. There she met Kenya's Cicilia Seleian Koisenke, now a mother of 10 children and someone she describes as "a visionary leader."
Since their meeting, Mrs. Koisenke has traveled several times to the U.S. to sell beaded items and to raise funds for the Maasai children's school.
From March 17 through 23, Ms. Hall will host her friend who, during several Richmond engagements, will discuss Maasai culture along with challenges facing her African homeland.
Mrs. Koisenke lives in Intashat, a sublocation in Kenya. The community of about 5,000 people has suffered from severe drought conditions throughout the Horn of Africa, which have persisted through four rainy seasons already.
Last month, First Lady Jill Biden visited the Lositeti village in Kenya to draw attention to the severe drought that has gripped East Africa and created an unprecedented food insecurity crisis in Kenya.
Mrs. Koisenke and Ms. Hall stay in touch with WhatsApp. Although micro financing helped Mrs. Koisenke operate a shop that generated income for several years, the Horn of Africa, which includes Maasai, "has suffered a punishing four-year drought, have lost all their livestock, cannot grow food, and even the animals in the bush are dying," said Ms. Hall. "It is heartbreaking to witness such loss and desperation."
Mrs. Koisenke described her country's plight recently via text and video chat on WhatsApp.
"We are a pastoral community that depends on animals — cows, goats and sheep, but now the animals are dying because of the drought," she said. "At one time I had almost 40 cows and now I have two, and those two are very weak.
"Because of the drought everything has changed," she continued. "When we go to the markets, there's not enough food. In my community, we have one waterhole and we get very little water. It is not enough for us and it is not enough for what's left of the animals to drink. Life now is totally changed."
She said that on top of the severe drought, COVID-19 impacted her community as it did the rest of the world. Travel restrictions kept away tourists who normally would take in safaris and shop at their markets.
"We have a lot of hardship because we don't have the capital to buy food and materials [for making jewelry]," Mrs. Koisenke said. "People in my community must depend on well-wishers to give them money."
She hopes to raise awareness and make connections with people, as well as sell pieces of traditional beaded jewelry she and the Maasai women of her community have made.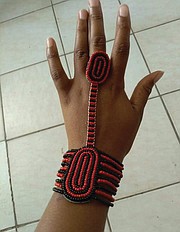 She also hopes to share some life lessons she has learned from jewelry making.
"Even to make beads like this is not an easy job," says Mrs. Koisenke. "First, you must be patient. Secondly, you need focus. Thirdly, you must be creative. When you have those three things, you need to be doing them with everything in your life."
Mrs. Koisenke will sell jewelry at St. Stephen's Farmer's Market on March 18 from 9 a.m. to noon, and will attend St. James's Episcopal Church's 9 a.m. worship service Sunday, March 19. A conversation, reception and sale will follow in the Michaux House Library from 10:15 to 11 a.m.