Richmond gets Sassy
Richmond's global connections: Blending culture and fashion to fight famine, menstrual poverty
Debora Timms | 3/16/2023, 6 p.m.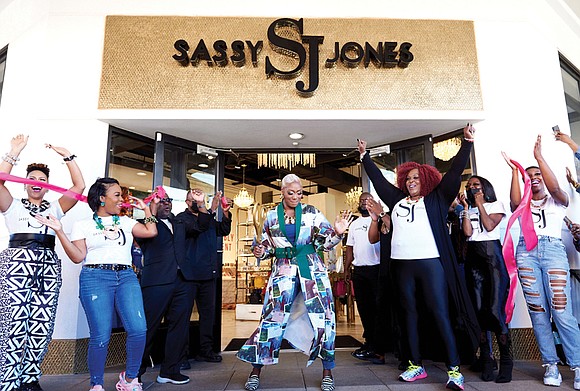 When Sassy Jones opened a flagship location in Short Pump Town Center last October, it gave the brand's loyal online community a home they could come to and enjoy shopping the products they loved in a new way — in person.
"We have always been cultivating this very personal experience online with our community," CEO and founder Charis Jones said by phone recently about her decision to branch out from their popular e-commerce presence.
"I felt like our products needed to be experienced, touched, tried on and appreciated for their beauty in a different way," she explained. "For us, it's also a marketing strategy. The store attracts so many new and different customers. It's been amazing for brand awareness."
Born in Portsmouth, Mrs. Jones had been living in Hampton when she moved to Richmond about 13 years ago. She was working a corporate job at the time, commuting to Fredericksburg and dreaming about a way to work for herself doing fashion because that was "in her blood."
A 2013 radio commercial advertising sales tables for rent at the Transformation Expo at Richmond Raceway inspired her to become an entrepreneur. She sold her car to get the cash she needed to buy inventory to sell products at the expo and rented a table. The day was a big success. Not only did she learn a lot about the women who would become her market, she made more money in one day than in two weeks at her job.
When she took the leap and quit her job to begin selling at trade shows across the country, she says it felt like trying to build a skyscraper without a blueprint.
"I was so determined that I had something to offer the world that I continued to ignore that feeling," Mrs. Jones said. "As crazy and ignorant as that sounds, I had to block it out in order to keep putting one foot in front of the other."
That determination paid off.
Today, Sassy Jones is a multimillion dollar brand that began designing its customized jewelry, clothing and accessories about three years ago — always with Black women in mind. Sassy Jones believes Black women often are underserved by the major fashion labels. She focuses on empowering them to be the bold, beautiful versions of themselves that they want to be.
Every purchase at Sassy Jones benefits African girls living in menstrual or period poverty, says the retailer. This stigmatization has had dire consequences beyond the medical. Period poverty refers to a lack of access to menstrual products, along with menstrual equity, which includes the lack of education about reproductive health, hygienic washing facilities, and reliable waste management, according to Harvard University's Radcliffe Institute.
"The idea that menstrual products are a necessity and should be affordable, untaxed, and without toxins — and preferably free, as toilet paper is in public places — has only been a very recent phenomenon," said Lee Sullivan, who heads Radcliffe's Schlesinger Library of printed and published materials and curator of the 2022 "Out for Blood: Feminine Hygiene to Menstrual Equity."
With the reproductive window averaging 38 years, pads and tampons alone add up to nearly $7,000 over a lifetime, but estimates that take a more inclusive view of period products put the price of a monthly cycle at more than $18,000 over a lifetime, the exhibit noted.
Mrs. Jones started her initiative after visiting a local school on a safari trip to Maasai Mara last year. Maasai Mara (or Masai Mara) is situated in southwest Kenya and among Africa's wildlife reserves.
She describes feeling a "magnetic pull to make a difference," and decided to provide the girls a dormitory and stock it with feminine hygiene products.
Mrs. Jones was excited to hear recently that the dormitory is almost complete. She also shared another bit of exciting news — she was interviewed on the "3rd Hour of Today" show on Wednesday for a segment aptly titled "She Made It."
"I probably will fall out on the floor when it airs," she laughs. "That was the moment when I thought, 'Charis, you have done something here.'"