'Art in the Atrium'
3/23/2023, 6 p.m.

The Richmond Chapter, The Links hosted its 11th Biennial Auction "Art in the Atrium" on March 18 at The Virginia Museum of Fine Arts. The Links is a national volunteer service organization whose members are "concerned, committed, talented and professional" Black women" who enhance the quality of life in the larger community."
The "Art in the Atrium" annual fundraiser benefits Greater Richmond. Past beneficiaries include Franklin Military Academy of Richmond Public Schools, Virginia Union University, The Black History Museum and Cultural Center of Virginia, The Virginia Museum of Fine Arts, Feed More, and Richmond Fisher House.
Above, Dr. Monroe Harris, left, immediate past board president of the Virginia Museum of Fine Arts, and Tammy and Brian Jackson, were among "Art in the Atrium" supporters, as were Barbara B. Wright and Dr. Thomas Wright Jr. of North Chesterfield.
Also enjoying themselves during the Richmond Chapter of The Links' fundraiser were Dr. Pamela K. Royall, one of the event's two honorary co-chairs, and Joy. P. Goodrich, the chapter's archivist. Moses Foster Jr., not pictured, also served as the event's co-chair. Courtney Harris Armstrong of Richmond takes in some of the artists' work that was part of the auction during the festive evening, which celebrated The Links 70 years of "distinguished service to the Richmond community."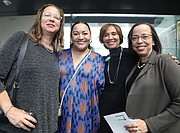 Rounding out the dozens of attendees were, from left, Dee Dee French Boone, of Virginia Beach, Gail Hollyfield Taylor, of Richmond, Nikki Brown, a member of The Richmond chapter of The Links, and Nicole Gilpin Hood of Baltimore.