Lamont Bagby viewed as favorite in Tuesday's special Senate election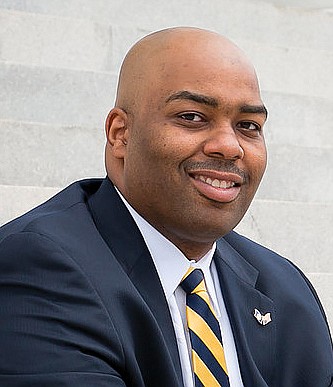 Henrico Democratic Delegate Lamont Bagby is poised to become the newest state senator from the Richmond area.
Next Tuesday, March 28, Richmond-area voters in the state 9th Senate District will choose a successor to now 4th District U.S. Congresswoman Jennifer L. McClellan in a special election to fill the final year of her General Assembly term.
Election observers list Delegate Bagby, who also chairs the General Assembly's influential Legislative Black Caucus, as the overwhelming favorite in his contest with his little-known and almost unnoticed Republican rival, Stephen J. "Steve" Imholt, in the balloting.
Polls will be open from 6 a.m. to 7 p.m. in the district that comprises most of Richmond north of the James River, a portion of Henrico and Hanover counties, including Ashland, and Charles City County.
A win for Delegate Bagby would give him a leg up in the upcoming General Assembly elections in which he plans to compete to secure a full four-year Senate term.
Like other state Senate districts, the 9th is disappearing due to redistricting. He would run in the new 14th Senate District, which will include a big chunk of Richmond and a smaller piece of Henrico County.
A victory Tuesday also would continue the 46-year-old Henrico native's unbroken string of election successes since he first sought the Fairfield seat on the Henrico County School Board in the November 2007 elections. That includes winning the Feb. 26 Democratic "firehouse" primary to get into the state Senate race.
Heading into the election, Delegate Bagby has been endorsed by virtually every elected Democrat and numerous community and religious leaders. The Virginia Public Access Project also reported Delegate Bagby raised $212,000 to fuel his campaign compared to the $580 his Republican rival reported.
Regarded as a progressive Democrat in the House, Delegate Bagby campaigned for the Senate as a champion for women's reproductive rights, for increased investments in public school, for stronger gun control laws and for paid family leave, expansion of state-paid child care and increases in the minimum wage.
Growing up in Henrico County, he said he never imagined himself in politics. Instead, "I envisioned myself becoming a teacher or a preacher."
The son of a truck driver and office manager, he started out as a business teacher at Henrico High School after graduating from Norfolk State University and later adding a master's degree from Virginia Commonwealth University.
But he saw an opportunity to influence school policies and took it with his bid for a School Board seat. Along with his work in the legislature, Delegate Bagby has since sold cars and served as director of operations at the Peter Paul Development Center in Richmond. Currently, he said he is working as a business consultant and investor in commercial real estate.
Mr. Imholt, 70, who was crushed in 2015 when he challenged then Delegate McClellan, is most associated with Rockford, Ill., where he served on the School Board.
A former Hewlett Packard employee, he is a specialist in software development and infrastructure, but is regarded as having little presence in the Richmond-area political scene.