NBA legend Willis Reed dies at age 80
He led the Knicks to titles in 1970 and 1973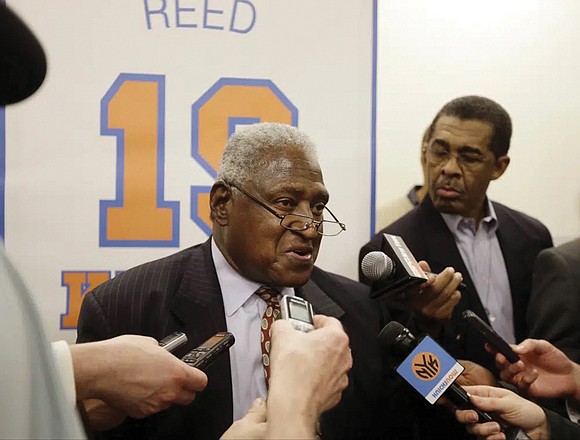 Willis Reed, who belongs in any conversation about the greatest HBCU basketball players of all time, died Tuesday, March 21, 2023, of heart failure. The Grambling State and New York Knicks legend was 80.
Nicknamed "The Captain," Mr. Reed was the undersized center and emotional leader on the Knicks' two NBA championship teams, with a soft shooting touch and a toughness to tussle with the era's superstar big men on the inside.
He was remembered perhaps more for the manner he led the Knicks than how superbly he played for them.
"Willis Reed was the ultimate team player and consummate leader. My earliest and fondest memories of NBA basketball are of watching Willis, who embodied the winning spirit that defined the New York Knicks' championship teams in the early 1970s," NBA Commissioner Adam Silver said.
Mr. Reed, a 6-foot-10 left-hander from Lincoln Parish, La., starred with New York from 1964 to 1974, leading the Knicks to NBA titles in 1970 and 1973.
Wearing No. 19, he was a seven-time All-Star, averaging 19 points and 13 rebounds for his career, often facing the likes of Boston's Bill Russell and Philadelphia's Wilt Chamberlain in Eastern Division matchups.
Mr. Reed had a smooth outside shot and was plenty to match up with the NBA finest in the paint.
In 1970 Mr. Reed was the NBA Most Valuable Player, All-Star Game MVP and playoffs Finals MVP.
He may be most remembered for the deciding Game Seven of the 1970 Finals against the Los Angeles Lakers, then featuring Chamberlain, Jerry West and Elgin Baylor.
Mr. Reed had missed Game 6 with a torn muscle in his thigh and LA had won 135-113. He was not expected to play in Game 7.
To the surprise and delight of many at Madison Square Garden, Mr. Reed limped onto the floor to start the game and quickly hit two jump shots. The crowd exploded with emotion.
When a hobbling Mr. Reed left the game for good late in the first half, the Knicks led 61-37 and went on to prevail 113-101.
Afterward, on national television, commentator Howard Cosell said this to Mr. Reed:
"You exemplify the very best that the human spirit can offer."
Mr. Reed was selected to the Naismith Hall of Fame in 1982, to the College Hall of Fame in 2006, to the NBA's 50th anniversary team in 1997 and to the NBA's 75th anniversary team in 2021. He was NBA Rookie of the Year in 1965.
His No. 19 is retired by the Knicks.
Following retirement as a player, Mr. Reed served as head coach at Creighton University, as assistant coach at St. John's and an assistant coach and administrator with several NBA franchises, including the Knicks.