'We will stand for you'
Remembrances, calls for reform at funeral for Irvo Otieno
Sarah Rankin/Associated Press | 3/30/2023, 6 p.m.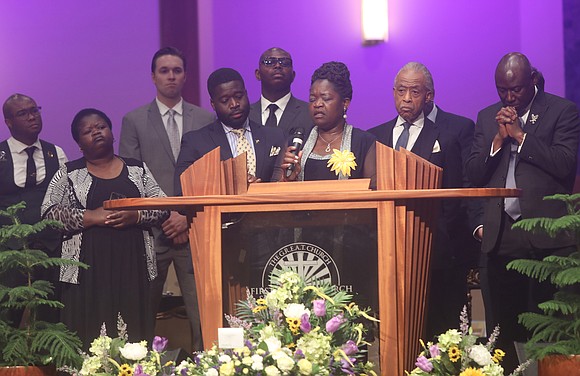 Family, friends and other mourners gathered Wednesday at a Virginia church to remember Irvo Otieno at a funeral service, celebrating his life and calling for mental health care and policing reforms after the 28-year-old Black man's death earlier this month while in custody at a state psychiatric hospital.
"He had an illness. He should have been doctored to, not treated with brutality," said civil rights leader the Rev. Al Sharpton, who delivered the eulogy.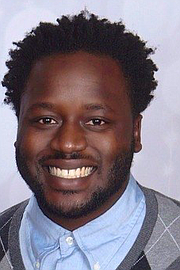 Other speakers recalled Mr. Otieno as an empathetic, energetic and well-respected friend, teammate and musical artist during the service at First Baptist Church of South Richmond, Ironbridge, as they vowed to seek justice for his death.
Mr. Otieno, whose family said he had long struggled with mental illness, died March 6 after he was pinned to the floor by sheriff's deputies and others while being admitted to Central State Hospital in Dinwiddie County. Seven deputies and three hospital workers have been charged with second-degree murder in his death, and an investigation is ongoing.
Video released earlier this month shows sheriff's deputies and hospital employees restraining a handcuffed and shackled Mr. Otieno for about 20 minutes after he was forcibly led into a hospital room. For much of that time, Mr. Otieno was prone on the floor, pinned by a group so large it blocked the camera's view of him at times.
Personnel who realized he appeared limp and lifeless eventually began resuscitation efforts, the video showed. Mr. Otieno's family and their attorneys have said he posed no danger and was simply trying to breathe.
"You know he couldn't fight back — he was handcuffed and shackled. And if we sound angry, it's because we are," Rev. Sharpton said.
Dinwiddie Commonwealth's Attorney Ann Cabell Baskervill has said Mr. Otieno was smothered to death. An autopsy is still pending.
Mr. Otieno, who emigrated from Kenya as a child, spent most of his childhood in suburban Richmond. He was a "gregarious baby, a lively toddler, an energetic child, a fun-loving athletic teen and an artistic young man," his funeral program said. He was also a high-achieving high school athlete who earned an athletic scholarship to attend college.
He was pursuing a goal of building a music career, streaming his music under the moniker "Young Vo" while working toward starting his own record label, his family has said.
Wednesday's service was attended by hundreds of mourners that included friends, family, clergy members and representa- tives from the office of Gov. Glenn Youngkin. An interment was scheduled immediately following the service.
Mr. Otieno's family and their attorneys have said he was experiencing mental distress at the time of his initial encounter with law enforcement earlier this month, days before he was taken to the state hospital. He was first taken into custody March 3, when he was transported to a local hospital for mental health treatment under an emergency custody order.
Police have said that while at the local hospital, he "became physically assaultive toward officers," at which point they arrested him and took him to a local jail, something Mr. Otieno's family says should never have happened given that he was in need of treatment. On the afternoon of March 6, he was transferred to the state hospital, which has a unit that provides care for people admitted from jails or by court-order.
Attorneys for the defendants charged in his death have said their clients were trying to restrain Mr. Otieno. During bond hearings and in statements, several defense attorneys have sought to distinguish their clients from the mass of bodies involved in pinning Mr. Otieno to the floor. All have been granted bond and have pre-trial hearings in April or May.
Attorneys for Mr. Otieno's family have pushed back at those characterizations and did so again Wednesday.
"They engage in the intellectual justification of discrimination," said civil rights attorney Ben Crump.
Mr. Crump, Rev. Sharpton and another family attorney, Mark Krudys, called for more robust mental health care services and more training for law enforcement for mental health-related situ- ations. They also said Virginia should consider creating mental health-specific courts under a system like California's.
Caroline Ouko, Mr. Otieno's mother, said she never could have imagined what would unfold after her son was first taken to the local hospital for care.
"We will miss you dearly. But rest assured, as you fly in heaven with your God, you are not here physically with us. But we who remain, your family, your friends and my team beside me, we will get to the bottom of what happened to you," she said, followed by applause.