Family of Irvo Otieno agrees to $8.5M settlement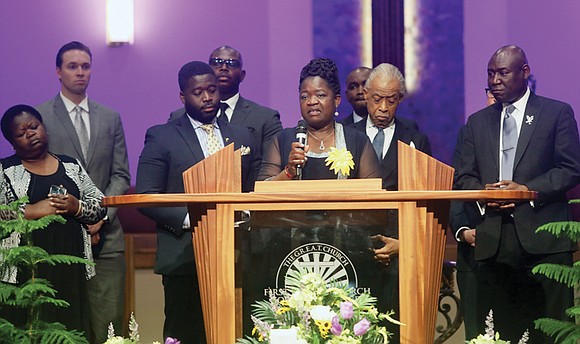 The family of a man who died while handcuffed and pinned to the floor for about 11 minutes as he was being admitted to a Virginia psychiatric hospital has reached an $8.5 million settlement with the state and the county and sheriff whose deputies were involved in restraining him.
A judge approved the out-of-court wrongful death settlement Tuesday, according to an agreement filed in Henrico County Circuit Court.
Irvo Otieno, a 28-year-old Black man, died in March after being pressed to the floor of Central State Hospital for about 11 minutes by a group of Henrico County sheriff's deputies and hospital employees. Surveillance video that captured how Otieno was treated at the facility where he was set to receive care sparked outrage across the U.S. and calls for mental health and policing reforms.
His death was ruled a homicide by asphyxiation. Ten defendants were indicted on second-degree murder charges, but charges against two of the hospital employees were later dropped.
Mr. Otieno's family has said he had a long history of mental health problems and was struggling to breathe while he was being held down. Some of the defendants' lawyers have said that Otieno was combative and they were simply trying to restrain him.
The settlement agreement says the state, county and the sheriff have not admitted any liability and deny that their actions caused Mr. Otieno's death, but have agreed to collectively pay the $8.5 million to Otieno's family and their attorneys.
Macaulay Porter, a spokeswoman for Gov. Glenn Youngkin, said Wednesday the governor pushed for a settlement "with the hope that doing so proactively and fairly might alleviate – in a small way – some of the suffering that Irvo's mother and brother faced, recognizing that no settlement can take the place of a loved one."
Attorneys for Mr. Otieno's family, including prominent civil rights attorney Ben Crump and Virginia attorney Mark Krudys, said in a statement the family "is pleased that they were able to find a resolution outside of court in a manner that honors Irvo's life."
While the statement from Crump and Krudys referred to the settlement as "confidential," its terms were outlined in public records on file at the local courthouse.
It includes a payment of about $5 million to Otieno's mother and siblings, after the payment of funeral and burial expenses and attorneys fees of over $3 million.