Sanders beefs up Buffaloes' roster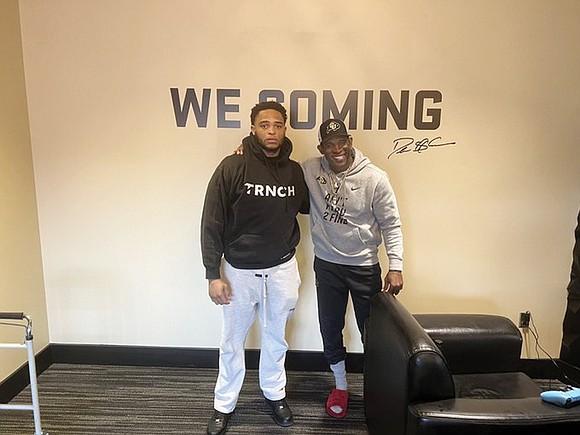 In overhauling the University of Colorado football roster, Coach Deion Sanders has spread his recruiting net as far as Virginia.
Among the many transfers headed to Boulder are Deeve Harris and Chazz Wallace, both former Old Dominion University Monarchs.
Harris is a defensive end known as a rugged pass rusher. Wallace is a defensive lineman.
Colorado went 1-11 last season and perhaps no school in history will undergo a more dramatic facelift.
"There is no way you put new furniture in this beautiful home without first clearing out the old furniture," Coach Sanders told USA Today.
NCAA Division I FBS schools are allowed 85 scholarships. It looks possible that at least 71 players on Coach Sanders' first roster will either be transfers or incoming freshmen.
Harris is a 6-foot-2, 233-pound edge rusher who had 57 tackles in two ODU seasons, including nine for loss and five sacks. He returned two intercep- tions for touchdowns and scored another TD on a fumble return.
Two notable UC transfers are from the SWAC champion Jackson, Miss., State team of 2022. They are Coach Sanders' son, quarterback Shedeur Sanders, and defensive back/wide receiver Travis Hunter. Both figure prominently in the 2023 picture.
Coach Sanders, an NFL Hall of Fame cornerback, was 27-6 in three seasons as Jackson State's football coach, including 22-3 in the past two campaigns.
Even though he has yet to win a game for UC, Buffaloes fans must like what they see so far. A record 46,000 showed up for Colorado's spring intrasquad game. The previous high was 17,800 in 2008.
Coach Sanders will be tested early.
Colorado opens its 2023 season in Fort Worth, Texas, against Big 12 power Texas Christian, last season's national runner-up to Georgia.