Coach Prime comes out swinging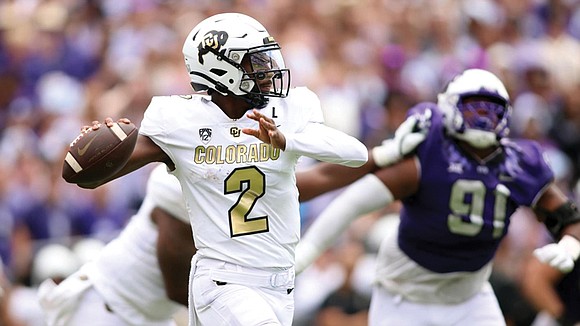 "Sanford & Son" has given way to Sanders & Son as a top entertainment attraction.
Only this is real life drama minus any funny business.
In his long-awaited debut as Colorado head coach, Deion Sanders' Buffaloes stunned No. 17 ranked Texas Christian, 45- 42, Sept. 2 in Fort Worth.
"Do you believe us now?" asked Coach Sanders, addressing the press.
Colorado was 1-11 last season and among the worst teams in the country. TCU made the four-team College Football Playoffs. The Buffs were a 20-point underdog.
Starring for the Buffs was Sanders' son, quarterback Shedeur Sanders, who completed 30 of 47 passes for a school record 510 yards and four touchdowns.
Shedeur transferred from Jackson State to Colorado with his dad. Coach Sanders was 23-3 in three seasons coaching at Jackson.
"For real ... Shedeur Sanders ... from Jackson State ... an HBCU ... playing on this level?" Coach Sanders said.
Here's how Shedeur put it:
"A lot of y'all didn't believe in us," he told the press. "You've got to understand Coach Prime, my dad, has been a winner everywhere he's been."
The Colorado roster has undergone nearly a 100 percent turnover from a year ago.
Shedeur wasn't the only Jackson State transfer to shine for the Buffs. Travis Hunter caught 11 passes for 119 yards and made a diving, acrobatic interception near the goal line to foil the Horned Frogs.
As a rare two-way performer, Hunter is already drawing talk as a Heisman Trophy candidate, similar to Michigan's defensive back/receiver Charles Woodson in 1997.
The next episode of Sanders & Son is Saturday at Nebraska. Ratings are expected to be high for the noon kickoff on FOX.