Battle for I-95 comes to VUU on Saturday
And now, ladies and gentlemen, it's time for the main event.
Nine weeks of preliminaries have passed.
Saturday at 1 p.m., Virginia Union will play host to Virginia State for the CIAA Northern Division title, a trip to Salem for the CIAA title game, and perhaps a shot at the NCAA Division II playoffs.
"Ever since our loss to Elizabeth City, we've been playing sudden death," VSU Coach Henry Frazier said. "Now we're just looking for more meaningful games in November."
While both teams have excelled on the field, they've fallen a bit short in the all-important NCAA Super Region 2 Division II poll.
Neither were in the top 10 in the first Regional poll, even though both VUU and VSU have a voice on the polling and selection committee.
"Our schedule hasn't been as tough; that's why we're a little down this season," said VUU Coach Alvin Parker.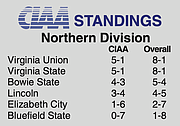 The traditional finale is officially the L. Douglas Wilder Classic, but "The Poll Bowl" would be just as fitting.
Fayetteville State was in the top 10, although it's hard to tell where since it was listed in alphabetical order.
VUU is ranked 10th in Super Region 2 in this week's poll.
The top eight advance to the NCAA tourney Nov. 18, a week after the CIAA championship.
Both coaches are confident their clubs will make the play-offs if they win the CIAA title game against perennial southern kingpin Fayetteville.
Dress rehearsals: With little resistance, VUU eased into the grand finale with a 57-12 win at Bluefield State.
The Panthers had 26 first downs to the Big Blue's nine and 520 total yards compared to the host's 180.
With so many contributing, the top shout-out was was an 81-yard crowd pleasing pass from Christian Reid to Reggie Vick that was more run than pass.
Vick broke several tackles along the sidelines in a spirited sprint to the goal line.
Said Sidibe had eight catches for 165 yards, making his case for All-CIAA receiver.
Virginia State, shaking off its puzzling loss to Elizabeth City the week before, was back to its dominating ways in routing Lincoln, 68-19, at Rogers Stadium.
The Trojans outgained the Lions, 586 yards to 320, and for the seasons have 354 points to the opposition's 153.
Quarterback Jordan Davis has been outstanding since taking over for injured Romelo Williams at midseason. Against Lincoln he threw for 272 yards and four touchdowns.
A defender to watch for VSU is Willie Drew, a transfer from James Madison, who leads the CIAA with five interceptions and may be the conference's top NFL prospect.
The final word: Both VUU and VSU are having perhaps the best regular seasons ever since taking up football around 1900.
Unfortunately, one will likely see their good work end in the long, late afternoon shadows Saturday on Lombardy.