Newly empowered Virginia Democrats nominate the state's first Black House speaker, Don Scott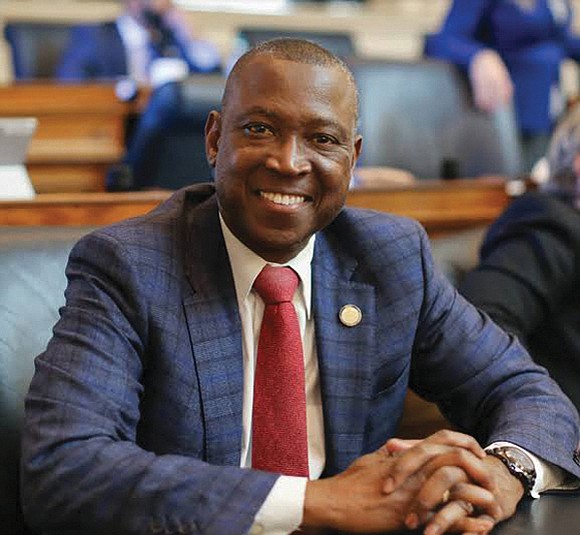 Virginia's state House will soon have its first Black speaker in its more than 400-year history after the chamber's incoming Democratic majority on Saturday chose Del. Don Scott to serve in the post.
Del. Scott was unanimously elected speaker-designee by the House Democratic Caucus, the group said in a news release.
The full House of Delegates will vote to officially confirm him on the first day of the 2024 legislative session.
"Virginia voters sent a resounding message on Tuesday that they wanted a Commonwealth that moved forward and that is exactly what I intend to do as your next speaker," Del. Scott said in a statement.
Democrats not only flipped control of the House of Delegates in Tuesday's legislative elections but also held their majority in the state Senate, dashing Gov. Glenn Youngkin and fellow Republicans' hopes of securing a GOP trifecta.
The outcome means at least two more years of divided government.
While Democrats will need to work with Gov. Youngkin to secure his support for legislation, they will be able to move without him in some areas, like judicial elections and beginning the years-long process of initiating constitutional amendments.
A U.S. Navy veteran and trial lawyer from Portsmouth with a quick wit, Delegate Scott has seen a meteoric rise in power among Virginia Democrats since he was first elected in 2019.
In an interview ahead of the vote, Delegate Scott said his election as speaker would show the progress made in Virginia and Richmond — the former capital of the Confederacy — over their long history.
"I know I stand on the shoulders of my ancestors who built that Capitol," Delegate Scott said. "I just wake up with so much gratitude to be in this position. ...I know there are so many people who are a lot smarter than me who are Black who never got this chance," he added.
In the interview, Delegate Scott pledged that Democrats would spend the next two years of Youngkin's term advancing progressive priorities to his desk, even though they might face the threat of a veto.
He said his party would move to pass a budget that reflects the interests of Virginians over corporations, increase the minimum wage to $15 an hour and strengthen gun control laws, including passing a ban on assault-style weapons.
"I think it's the responsible thing to do. Weapons of war should not be on our streets en masse. We're not going to take anybody's guns, but we're going to prevent a future sale of them," he said.
As for Gov. Youngkin's proposed 15-week abortion ban: "It's dead," Delegate Scott said, adding that the clearest message from Tuesday night was that Virginia voters want abortion rights protected.
"The Democrats, we're the party of freedom. I never thought that Republicans would become a nanny state, telling women what to do with their bodies," he said.
Delegate Scott, a Texas native who served as an officer in the Navy, openly discusses the fact that he served prison time for a felony drug conviction decades ago, something Republicans have occasionally used to criticize him.
He went on to rise through the ranks at a workforce development company and then started his own law practice before joining a prominent personal injury firm, Breit Biniazan, where he's a partner.
"Speaker-designee Scott's personal story — one of resilience, second chances, and historic firsts — reflects that of many Virginians and people across the nation," the caucus said in its news release.
Delegate Scott has been a top political adversary of the governor, once saying in pointed remarks on the floor that Gov. Youngkin's crusade against the academic framework known as critical race theory made him question whether the governor, who is openly religious, was actually a man of faith.
The remarks prompted the governor to take the unusual step of visiting Delegate Scott's office for a closed-door meeting that lasted about a half-hour.
In the AP interview, Delegate Scott said he sees a path forward to working with Gov. Youngkin in a bipartisan way on "kitchen-table issues."
"I think there's an opportunity for the governor to reset. Not on our terms, not on his terms, but on the Virginia voters' ... terms," he said.
Del. Scott has served as the minority leader since 2022, when the caucus opted to vote out its previous leader, Eileen Filler-Corn, after an unsuccessful election cycle that saw the party lose full control of state