Personality: Zarina Fazaldin
Spotlight on Richmond Folk Festival Programming Committee Chair
10/12/2023, 6 p.m.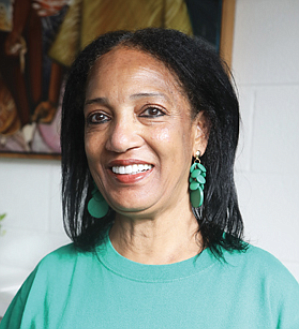 Zarina Fazaldin left her family in Tanzania to complete high school and earn her bachelor's degree in India before coming to Richmond to pursue post graduate studies. Back then, her dream job was to work at the United Nations.
More than 30 years later, Ms. Fazaldin still lives in Richmond, a city that she loves and considers her own. Her friends in Richmond have become family, she says.
"We Africans travel a lot around the world," Ms. Fazaldin adds. "We go where there's opportunity for us to do well and this way you also support your family who are left behind."
Since settling in Richmond, Ms. Fazaldin has immersed herself in numerous causes and endeavors, including historic preservation of properties and animal rescue activities.
Her latest role is chair of the Programming Committee for the Richmond Folk Festival, one of Virginia's largest events that attracts people from everywhere to Downtown Richmond's riverfront. This year's free, three-day festival is Oct. 13-15. Highlights include performing groups that represent gospel, salsa, mandika, rockabilly and New Orleans jazz and funk.
Ms. Fazaldin grew up loving music, which speaks to her frequent presence at any local performances featuring Afro Latin, Congolese jazz, Klezmer and mambo rhythms.
"Music has the power to touch our soul, lift our spirit and heal us," she said. "Music boosts our moods when we are down. Music reduces our stress, anxiety and depression. Music has a positive impact on our physical and mental health. It gives us energy when we feel low. Music is a powerful tool that brings joy during our most difficult times."
Ms. Fazaldin is proud of the turnout each year at the Richmond Folk Festival, which saw approximately 230,000 visitors in 2022. Even more fans are expected this year.
In addition to music and her excitement about chairing this year's folk festival, Ms. Fazaldin is an advocate for historic preservation, a passion she developed in the 1990s after seeing friends transform Jackson Ward homes from "the worst to the best." She fell in love with an old home in Richmond's Carver community, and began the restoration process on what became her first home. She continues to preserve homes in other parts of the city, including her current home in Jackson Ward.
Her greatest accomplishment, she says, has been adapting in a new country to pursue historic preservation. Her father was a well-known contractor in Tanzania who was proud of her following in his footsteps despite it being "a man's job."
Ms. Fazaldin says many of her lessons learned also are from people she has met throughout the world. She encourages everyone to travel to open their eyes to the world and learn about various cultures, music and ways of life, she said. Especially in America.
"I feel very fortunate and blessed," she said. "It is the American people who make the American dream possible. Regardless of race or gender or nationality, I keep myself open to learn from anyone, whether rich or poor."
Meet an ambassador for Richmond's history, culture and this week's Personality, Zarina Fazaldin:
Volunteer position: Chair, Richmond Folk Festival Programming Committee.
Occupation: Historic homes preservationist.
Date and place of birth: July 9 in Kericho, Kenya.
Where I live now: Historic Jackson Ward.
Education: Bachelor's degree in art, Sophia College, Mumbai University, Mumbai, India. Master's degree in sociology, Virginia Commonwealth University.
Family: Mother, Jante, and three brothers, Hanif, Latif and Shabir—all reside in Tanzania.
Richmond Folk Festival is: Richmond at its best!
Brief history of how the Richmond Folk Festival came to be: In the early 2000s there was an effort to bring a signature arts event to Richmond. A group of community leaders worked on the effort to bring the National Folk Festival here with the intent of continuing the event after the National's three-year run here from 2005 to 2007.
When founded and by whom: Jim Ukrop was the key community leader who championed the event, and Jack Berry of Richmond Renaissance (a predecessor of Venture Richmond) agreed to take on the role of the producing organization, helping spearhead sponsorships and organization. The event was then identified by Wilson Flohr and Richmond Region 2007 as a legacy event, thereby enabling vital funding for the National. After Jack Berry' retirement in 2016, Lisa Sims became Venture Richmond's CEO.
Mission: The festival strives to present the very finest traditional artists from across the nation and the world.
Folk music is: We use the NEA definition of folk music: The folk and traditional arts are rooted in and reflective of the cultural life of a community. Community members may share a common ethnic heritage, cultural mores, language, religion, occupation, or geographic region. These vital and constantly reinvigorated artistic traditions are shaped by values and standards of excellence that are passed from generation to generation, most often within family and community, through demonstration, conversation, and practice. Genres of artistic activity include, but are not limited to, music, dance, crafts, and oral expression.
How I initially became involved with the Richmond Folk Festival: K Alferio, our former Venture Richmond CEO, asked if I would like to volunteer and be part of the Programming Committee and without hesitation I said "yes".
No. 1 challenge in selecting musicians and creating the perfect lineup for three days: Creating the right balance and flow both within the full festival program and across the festival weekend. We strive to offer a new program each year that presents as broad and diverse an offering of traditional artists who are deeply rooted in the expressive traditions of their cultural communities..
How many musical groups will perform: Over 30 musical groups performing over the three days.
Who is traveling from the farthest location to perform and from where: Helobung, an Indigenous Tboli music and dance ensemble, is traveling from the Lake Sebu region in the southern Philippines. That's over 8,000 miles away!
Anything else at the Richmond Festival to check out aside from the music: Yes! A wonderful crafts marketplace with various handmade goods and local vendors, a robust food vendor line up, an entire section dedicated to families/children and some amazing people watching.
Volunteers and Richmond Folk Festival: The festival relies on the help of over 800 volunteers each year. They are part of the engine that keeps the train rolling. Jobs range from soda sales, bucket brigade, site set up and tear down and so much more!
How I start the day: I start my day with my Indian/British tea and a long walk in the neighborhood with my Great Pyrenees rescue dog, Bonnie, who enjoys her daily morning walk.
Three words that best describe me: Honest, caring and hard-working.
If I had 10 extra minutes in the day: I would take my dog for another quick walk, since that's her favorite thing to do.
Best late-night snack: Ben & Jerry's ice cream.
Something I love to do that most people would never imagine: I have rescued lots of feral cats in the neighborhood. Living in the Carver neighborhood I was known as a "cat lady" and I worked with Richmond Animal Care and Control and the SPCA to get feral cats neutered and spayed, bring them back to our community and find homes for them.
A quote that inspires me: "Unity is strength, division is weakness." African/Swahili Proverb
At the top of my "to-do" list: Buy my ticket and visit my family in Tanzania.
The best thing my parents ever taught me: Work hard, be independent, help others and stay humble.
The person who influenced me the most: Mr. Jim Ukrop – he taught me to stay focused in my business and staying focused has not only helped me in my business but also helped me in other aspects of my life.
Book that influenced me the most: "Who Moved My Cheese?" by Spencer Johnson, M.D. This book helped me learn how to deal with changes at work and in my personal life. After reading this book, I learned to embrace changes in workplace situations, as well as in my personal life and relationship, and gave up fear of losing jobs or friendship.
What I'm reading now: "If these Walls Could Talk" by Shirley R. Hawkins. For the first time, a well-organized and informative book is written about Dr. William Hughes 1915 a prominent African-American physician in the early 1900s who built the historic home that I bought, restored and now reside in. Dr. Hughes was Maggie Walker's personal physician and was a leading civil and human rights advocate. Following his death, the home became a school and workshop for African-American blind and vision impaired individuals. Ms. Hawkins' book is a fascinating journey into the world of the vision impaired.
Next goal: Professionally— To build four homes on my lot in Historic Carver and one on my lot in Jackson Ward. Personally—Travel more, eat right and exercise daily.