Finalists pitch podcasts during RESONATE festival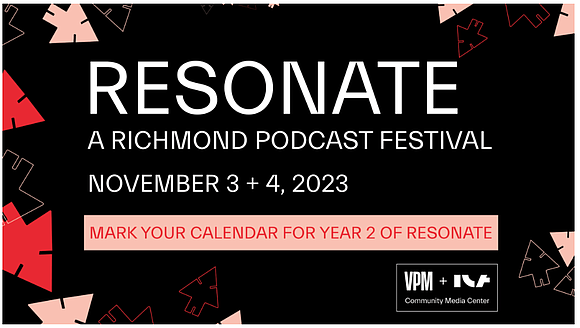 The Institute for Contemporary Art at Virginia Commonwealth University will present the second annual RESONATE Podcast Festival Nov. 3-4. This year, both established and aspiring podcasters were once again invited to submit ideas that demonstrate sound-rich, creative nonfiction storytelling.
Three finalists were selected to present their pitches in front of a panel of judges and a live audience at the RESONATE Podcast Festival Pitch to be hosted by RESONATE founder Chioke I'Anson on Nov. 4. The winner will receive $10,000 to produce a pilot episode and a first-look agreement from sponsor VPM, Virginia's home for public media.
The 2023 finalists and their podcast ideas are:
EMILY REEVES: "Violence Week" documents the events in East Lansing, Mich., where an outburst of violence at a local high school — and the discovery of a gun — leads to a community reckoning over school safety, racial equity and the role of police in schools.
IVY LE: "Capitalize" is a comedy documentary in which host Ivy Le tries in earnest to get rich. Ivy Le is a Vietnamese American comedian, writer and actress based in Austin, Texas. She hosts the only queer comedy mic in Austin, co-produces Austin Sketch Fest and performs at comedy festivals all over the country like Laugh After Dark, Tower City Comedy Fest and Lysistrata.
MAYA KROTH: "The Foil: A father. A daughter. A search for alien life" is an eight-part podcast series that blends field tape, interviews, intimate family conversations and creative sound design to explore the "Roswell Foil," a substance of mysterious origin once given to the host's father, Jerry. The two will search for an earthly explanation for the foil and explore the possibility of alien life.
Trailers for each of the podcast pitches can be found on SoundCloud.