Personality: Rebecca Cornett Massey
Spotlight on VCU Massey Comprehensive Cancer Center Advisory Board chair
10/26/2023, 6 p.m.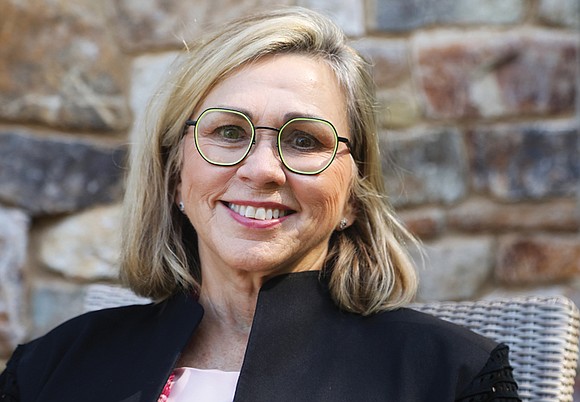 Rebecca "Becky" Cornett Massey describe herself as being enthusiastic and a teammate.
When hearing the new chair of the VCU Massey Comprehensive Cancer Center Advisory Board discuss the center's role in the Richmond community, her enthusiasm in being part of the center's team is evident.
Mrs. Massey has been a patient advocate and volunteer for the center for more than 30 years. Her praise of those she works with, as patients, staff, clinicians and researchers is effusive.
"Our advisory board is a group of incredibly dedicated and committed volunteers from the community, many who have been with us for 30 years," Mrs. Massey said. "They are so actively engaged; they are so giving of whatever resources they have. I'm so proud of this group of volunteers, as well as our young person's group called the Massey Alliance.
"I have found the generosity in our community amazing," she added.
As the fifth of eight children born to her parents, Doc and Eula Cornett in Eastern Kentucky, Mrs. Massey said they both were educators who taught her the importance of being there for others.
"It was watching how my mother interacted with her parents, my grandparents, and the care that she gave them as they grew older, and the care that both my parents provided for our neighborhood," Mrs. Massey said.
Mrs. Massey met her future husband, William E. Massey Jr., in 1971 when he visited Kentucky to learn his family's coal business in Martin County, Ky. The couple eventually moved to Richmond, where Mrs. Massey became a community volunteer with several Richmond organizations — including the Massey Cancer Center.
Founded in 1974 by Dr. Walter Lawrence, the center was designated as a National Cancer Institute Center of Excellence the following year and has remained so for almost 50 years. Its mission of treating everyone regardless of ability to pay, while advancing research that provides life-saving care and better quality of life after cancer, was made possible because of donors such as Mrs. Massey's father-in-law, William E. Massey Sr. and his nephew, Morgan Massey. Because of the early and continuing support of the family's Massey Foundation, the center eventually came to bear the family's name in 1983.
Mrs. Massey is proud of the volunteers with whom she works in raising funds to support the center's scientists, physicians and caregivers in the treat- ment, research and prevention of cancers.
And there is always the need for more.
"Such a large number of our patients do not have a support person with them or a support system," Mrs. Massey said.
It is volunteers who often can help patients connect to the additional resources they need to go along with their clinical treatment or be a listening ear. These relationships build advocacy and trust says Mrs. Massey, adding that most importantly, "it lets our patients know somebody cares."
Meet an advocate and volunteer for the VCU Massey Comprehensive Cancer Center and this week's Personality, Rebecca Cornett Massey.
Volunteer position: Patient advocate and advisory board chair, VCU Massey Cancer Center.
Occupation: Community volunteer since early 1980s, former Extension/4-H Agent with the University of Kentucky and Virginia Tech.
Date and place of birth: Oct. 24 in Slemp, Ky.
Where I live now: Richmond.
Education: Bachelor's degree, Eastern Kentucky University.
Family: Husband, William E. "Bill" Massey Jr.; sons Will and Taylor Massey; son Travis Massey, his wife Luciana and their two children, Magdalena and Mateo.
VCU Massey Comprehensive Cancer Center is: A cancer resource of excellence for the treatment, research and prevention of cancers led by an incredibly gifted team of scientists, physicians and caregivers who provide care and research that is informed by the people it serves. A truly comprehensive cancer center embracing the vision of health equality and cancer access that is led by nationally acclaimed Dr. Robert Winn, the only Black NCI designated center director when hired — a very proud moment in Massey's history!
Mission: Massey Cancer advances its laboratory research by bringing to the bench the needs that are heard throughout the communities it serves — primarily Central, Eastern and Southern Virginia made up of 47 counties and 19 cities that includes 4,088,904 racially, ethnically, geographically and socioeconomically diverse individuals! It is committed to understanding the cancer burden and disparities throughout the region and sharing information with our communities across the state.
When I hear the word cancer: It's everywhere and affects us all — and doesn't take notice of who you are, the color of your skin, or where you are from. One in every 2 men, and 1 in every 3 women will have a diagnosis during their lifetime.
How I have witnessed cancer impact lives: I see it every day I'm in the clinic and have lived it as a survivor. We watch and hear as patients go through all the emotions during their journey — the fear, the pain, the need to get it out of their bodies, the realization of maybe surgery, maybe chemotherapy, maybe radiation or all and how it interrupts life to become the "must" priority — and often the exclamation of "having lived a good life," or better me than another family member. The need for resources while going thru treatment are so real — financial, spiritual, food and housing, support groups, nutritional information — all impact the cancer patient.
Why Massey is especially meaningful to me: To see the gift of life and good quality of life as the outcome of a cancer diagnosis. Working with our dedicated team of volunteers, both in the clinic and with our Advisory and Alliance (young professionals) Boards, and supporting our staff and care partners, truly feeds my soul. To help create awareness of this resource and assist with friend raising and fund raising with Team Massey is very fulfilling.
No. 1 goal or project: To assist Dr. Winn and his team in raising awareness and funds to support our researchers and hire outstanding scientists and clinicians to advance cancer care. We are committed to helping the development team raise $22 million through community giving, and planning a golden gala for Massey's 50th anniversary in 2024!
No. 1 challenge facing Massey: Being able to respond to the cancer burden of shortened life span and access for all the people in areas we serve, and to meet the need for additional physicians and nurse teams as the number of patients increase following our pandemic years. Also, our need to educate and advocate for early screenings and for each of us to recognize the need and have access to care. The increase in young adults being diagnosed is alarming.
Proudest moment for Massey: Saving the lives of Virginians for 50 years and in 2023 achieving National Cancer Institutes' highest possible designation of Comprehensive!
How to volunteer with Massey: Contact VCU Volunteer Services via email at volunteer@vcuhealth.org or call (804) 828-0922.
How Massey focuses on health equity: Ensuring the Massey mission of equal access for cancer care is always first of mind with Dr. Winn and team leading the effort, including continuing focus and strong support for community engagement for education of prevention and resources being offered through Massey Center — helping to alleviate the burden of cancer on all Virginians.
Upcoming events: Women & Wellness Luncheon at the Jef- ferson Hotel, Feb. 6, 2024 with "Eat, Love and Pray" author Elizabeth Gilbert as speaker in support of women's cancer research!
How I start the day: Thinking about the day ahead with gratefulness and a cup of coffee with RVA news, also a little movement to get the joints working.
Best late-night snack: Peanut butter on Ritz crackers.
The music I listen to most is: Soft rock/country.
Something I love to do that most people would never imagine: Bass fishing.
A quote that inspires me: Do unto others as you would have them do unto you.
At the top of my "to-do" list: Organize my computer.
The person who influenced me the most: My mother.
What I'm reading now: "Demon Copperhead" by Barbara Kingsolver.
Next goal: Effectively serving as chair of Massey's outstanding volunteer Advisory Board in supporting Dr. Winn and his team in the priorities of the Center — health equity initiatives, ensuring endowment and facility funding and celebrating the Center's 50th anniversary in 2024 with a Golden Gala fundraiser to support and advance cancer research.