VCU names Faye Belgrave as vice president, chief diversity officer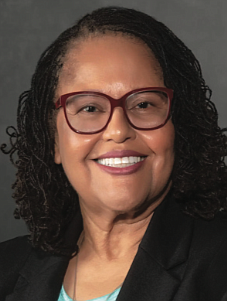 Faye Belgrave, Ph.D., a respected scholar, author and equity advocate, has been named vice president and chief diversity officer at Virginia Commonwealth University, effective Oct. 23.
Dr. Belgrave currently serves as associate dean for equity and community partnerships in the College of Humanities and Sciences, a position she has held since 2020. She joined VCU in 1997 as professor of psychology.
In a message to the VCU community, Michael Rao, Ph.D., president of VCU and VCU Health, said Dr. Belgrave has the right mix of qualities and experience to strengthen VCU's campus climate.
"Dr. Belgrave's experience, her dedication and her commitment to collaboration across the university and health system make her the right person for this role," Dr. Rao wrote. "She will advance VCU's commitment to a campus climate that is welcoming, diverse and inclusive of all, and I look forward to working with my longtime colleague in a new way."
Equity and inclusion have always been an essential element of Dr. Belgrave's teaching, her research into health disparities and her partnerships with the community. In 2001, she founded the Center for Cultural Experiences in Prevention to work collaboratively with community partners, students, faculty and staff to promote health and social equity.
"When I joined VCU 26 years ago, I was excited to be at a diverse university and in a place situated in a vibrant and culturally rich community of historical significance," Dr. Belgrave said. "My excitement continues today, and I am dedicated to ensuring that One VCU is a place that is inclusive and respectful, and one in which all students, staff, faculty and patients are afforded the opportunity to achieve successful outcomes."
Teaching and mentoring are especially rewarding to Dr. Belgrave, who has men- tored and trained numerous undergraduate and graduate students, post-docs and junior faculty throughout her career. It is important to her that those she has mentored carry forward the practice of centering inclusiveness and equity in their work at universities and other institutions throughout the United States.
Dr. Belgrave has received numerous awards and recognitions, including a VCU University Professorship, a lifetime achievement award and a distinguished leadership award from the American Psychological Association, the Association of Black Psychologists Distinguished Psychologist Award and an Outstanding Faculty Award from the State Council of Higher Education for Virginia. She received VCU's Presiden- tial Medallion award in May 2023.
Dr. Belgrave said she is committed to systemic change at VCU as reflected in the university's strategic plan.
"VCU's Quest 2028 goal of 'Diversity Driving Excellence' is foundational," Dr. Belgrave said. "It acknowledges that diversity of identities and perspectives generates innovation, creativity and a healthy organizational culture that strengthens productivity, wellness and positive outcomes."
Dr. Belgrave is internationally renowned for work on health disparities, community-engaged and culturally informed research, and gender-specific research. She is the co-author of "African American Psychology," the first such textbook and now in its fourth edition.
Dr. Belgrave received a Ph.D. from the University of Maryland College Park, a master's degree from the University of Nebraska, Lincoln, and a bachelor's degree from North Carolina A&T State University.