'Walk Through Fire'
Sheila Johnson's memoir explores love, loss and triumph
Debora Timms | 9/21/2023, 6 p.m.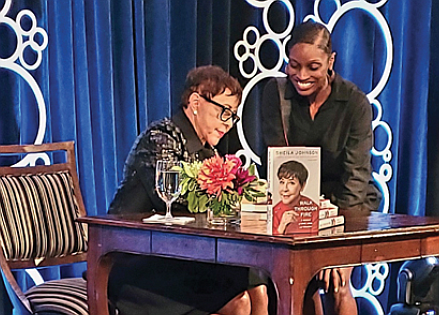 Middleburg, VA. - For four days and three nights in mid-August, Sheila Crump Johnson, cofounder of Black Entertainment Television and CEO of Salamander Hotels & Resorts, hosted hundreds of guests at her 340-acre Salamander Resort and Spa near Virginia's Blue Ridge Mountains.
The occasion was the third year of her "Kwame Onwuachi Presents The Family Reunion," a gathering that celebrates diversity in the hospitality and culinary communities with panel discussions, cooking demonstrations, and activities such as zip-lining, axe throwing, field games and a survival course.
Add to that more than a dozen celebrity chefs, including Jessica B. Harris, Toni Tipton-Martin, Carla Hall and the Family Reunion's namesake, Kwame Onwuachi. Panel topics covered "The Rise of Soul Food & Fine Dining," "Wine & Culture" "Jerk: The Dish that Freed a Nation," and "Weed...Wasn't So Bad Mom, Was It?"
Equally fitting were topics that made the Family Reunion possible: "Building Wealth and Maintaining Your Identity," "The Art of the Pitch: Selling The Story of Your Business."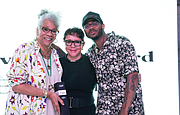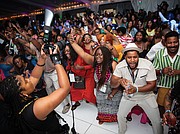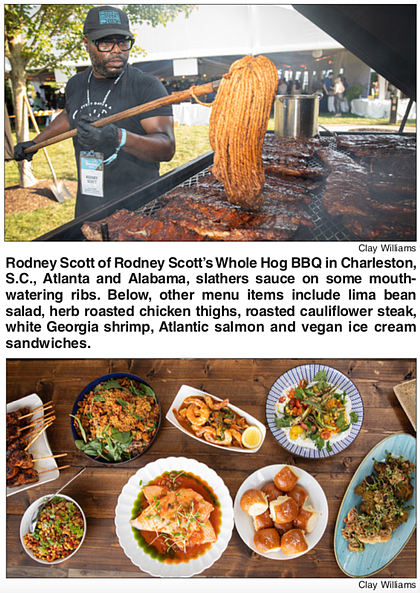 Throughout the fun-filled event, Ms. Johnson danced to funk, hip-hop and R&B music, or posed for photos with guests who traveled from Atlanta, California, Maryland, Richmond, Va., Texas, Washington, D.C., and other parts of the country.
But none of it – Salamander's breathtaking views, pristine gardens, luxury hotel rooms, and status as the first destination resort in the D.C. area to receive the Forbes Five-Star Award and the only Forbes Five-Star spa in Virginia—was possible without a fight.
In her new book, "Walk Through Fire: A Memoir of Love, Loss, and Triumph" Mrs. Johnson details the battles she endured when married to her ex-husband Robert L. "Bob" Johnson, with whom she founded BET.
Her war with the town of Middleburg when she sought to build Salamander is legend.
In 2002, when she bought the Salamander property to build a resort, she said "I had absolutely no idea what I was getting into." In her book she recounts a woman in a local shop who yelled at her daughter: "How dare your mother come in here and destroy this beautiful area? Who does she think she is?"
Also, her struggle to get bankers to take her seriously, despite her being the first Black woman billionaire in the United States, is shocking. Eventually, things started to fall in place. Salamander opened 10 years ago and now is an economic boon to the town. And last year Mrs. Johnson purchased the Mandarin Oriental in D.C. in partnership with a private equity real estate group. Ms. Johnson also is the only Black woman to be a principal stakeholder in three professional sports teams: the Washington Mystics, Wizards and Capitals.
It is a surprise to no one that her book launch last Saturday at Salamander drew a sell-out crowd.
Speaking candidly, Ms. Johnson, 74, broke her life down like a play in three acts — the first beginning with the fact that racism meant her family had moved 13 times by the time she was 10. Her father, a prominent neurosurgeon, had trouble securing a permanent position since he wasn't allowed to operate on white patients.
When the family finally settled in Maywood, Ill., young Sheila took up the violin at school and was good at both. Life changed drastically, however, when one day, her father left her mother for another woman, she acknowledged recently on "CBS News Sunday Morning."
"Women did not have a lot of power back then," Ms. Johnson said. "[My mother] didn't have credit cards, her name wasn't on the bank account and she couldn't file for child support. I mean women had nothing and this was the first lesson that I learned about."
Still in high school, Ms. Johnson said she had to "take over the family." She took a job mopping floors in a JCPenney. She came home one night to her younger brother screaming and their mother convulsing on the floor in the middle of an emotional breakdown.
Music became her lifeline. Her high school orchestra director helped her secure an audition that earned her a full scholarship to the University of Illinois Urbana-Champaign. It also brought her together with her first husband, Bob Johnson.
The relationship was controlling from the outset, she said, but she ignored all the warning signs. The two married in 1969, and Ms. Johnson says she spent the next 30 years, the second act of her life story, trying to make a relationship that "constantly got worse" work.
In her book, Ms. Johnson talks about how the couple co-founded BET. She also details her ex-husband's numerous affairs and emotional abuse she experienced throughout their marriage. She was pushed out of BET in 1999 and many of its revelations were played out in the media at the time.
"I still suffer from post-traumatic stress. It will never leave me," Ms. Johnson said. "By the time he finished with me, I felt like a piece of lint and almost committed suicide... it was that bad."
Ms. Johnson said it was her mother who gave her strength and support over the next few years. She also told her she "could finally live again" when she divorced in 2002.
And live again she has.
Ms. Johnson's third act has taken place in Middleburg. Her farm there became her escape from the gossip and glare in Washington, D.C. It was once named Salamander and she shared the story of previous owner — former Rhode Island governor Bruce Sundlun - and why she asked to use the name herself — because "mythically it is the only animal that walks through fire and still comes out alive."
"It was just fitting," Ms. Johnson explained.
She also found true love again — coincidentally with the judge who presided over her divorce, William T. Newman Jr. The two had first met some 30 years before as cast mates in the same play. They were married in 2005.
Shortly before the book launch ended, Ms. Johnson pulled out her memoir and turned to the epilogue. She said there was a message there that she wanted everyone to take with them.
"Trust your instincts. Get to know who you are before you give yourself to someone else. Believe that you can find happiness, and that you deserve it," she read. "You are going to be OK."
Bonnie Newman Davis contributed to this article.