Downpour fails to dampen Trojans' 33-0 victory over Livingstone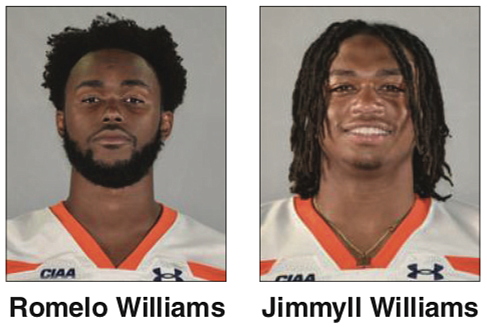 Williams plus Williams has added up to four victories and zero defeats for Virginia State University football.
Romelo and Jimmyll Williams aren't siblings but do share a common talent – getting the Trojans into the end zone.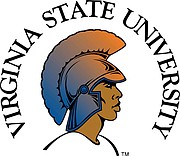 In VSU's Ophelia-soaked 33-0 win over visiting Livingstone, quarterback Romelo Williams kept his right hand dry enough to pass 119 yards and a touchdown to Tylique Ray.
The elusive signal caller was never sacked and suffered no interceptions.
He also ran 72 yards with a TD on 15 totes.
Running back Jimmyll (that's with two "m's" and two "ll's") kept his balance over a slick artificial turf to rush for 105 yards and a TD on 19 tries.
Feeling the momentum, Coach Henry Frazier III's squad will be favored to improve to 5-0 this Saturday at Shaw in Raleigh, N.C. VSU defeated Shaw, 28-24, last year in Ettrick.
Florida native Romelo Williams is a graduate transfer from Central Connecticut. R. Williams beat out incumbent Jordan Davis in the preseason to become first on the depth chart.
J. Williams, No. 26, a freshman from Durham, N.C., moved into a starting role following a most unfortunate, season-ending leg injury to Upton Bailey.
The speedster came to Ettrick with glowing credentials.
At Durham's Hillside High, Williams rushed for more than 2,000 yards last season helping his team to a 13-1 mark and the state semifinals.
He was also an outstanding baseball player at Hillside, a formerly segregated school which opened in 1887 under the name of James Witted High.
VSU dominated the visiting Blue Bears in all categories. The Trojans had an advantage of 23-9 on first downs and 441 yards (including 298 rushing) to 132 in total offense.
Among the many defensive standouts was 6-foot-4, 278-pound redshirt freshman Cameron Davis from J.R. Tucker High. The burly down lineman had five tackles.
Unable to cope with the wet weather, Livingstone was 4-for- 24 in the air and averaged just 2.5 yards per rushing try.
This is the best start for the Trojans since 2017 when they started 10-0 and won their last CIAA title under Coach Reggie Barlow. Coach Frazier succeeded Barlow last season.