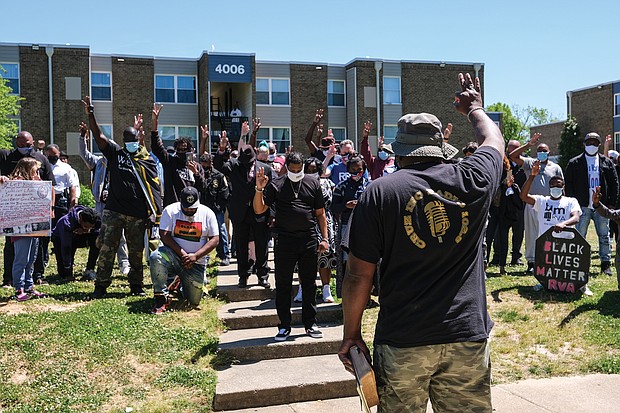 Cruz Sherman, founder of Men in Action, leads a prayer during a rally Saturday of community members and public officials seeking solutions to stop the city's gun violence. Group members hold up three fingers in tribute to 3-month-old Neziah Hill, who was shot and killed with her 30-year-old mother, Sharnez Hill, on April 27 in the courtyard of the Belt Atlantic Apartments on Midlothian Turnpike. Three others were wounded. The rally was held in view of the apartment complex. Among the officials attending the rally were U.S. Sen. Tim Kaine, state Sen. Joseph D. "Joe" Morrissey, Richmond Police Chief Gerald M. Smith, Henrico Police Chief Eric D. English, Richmond Sheriff Antionette V. Irving, Richmond Commonwealth's Attorney Colette W. McEachin, Richmond Public Schools Superintendent Jason Kamras and Henrico County Sheriff Alisa Gregory.
Stories this photo appears in:

City schools, agencies and government work to find strategies to combat gun violence
South Richmond residents are preparing to bury a mother and her infant daughter, two of the latest victims of a spate of indiscriminate violence that has left families devastated and in tears over the unnecessary loss life.