Warner to get new Washington term after nail-biter win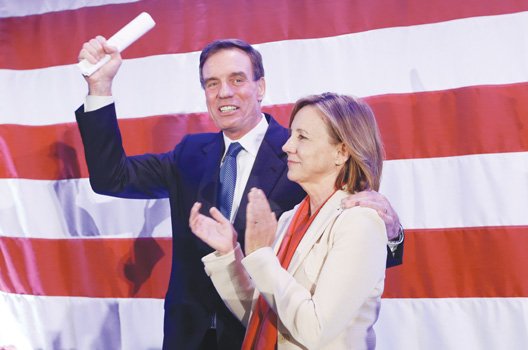 Whew!
That's how many supporters of U.S. Sen Mark Warner are reacting after he narrowly won re-election to six more years of representing Virginia in Washington.
The 59-year-old former Virginia governor managed to escape the GOP avalanche Tuesday night, eking out a surprisingly close 16,000-vote victory over his main rival, Republican lobbyist and political strategist Ed Gillespie, according to the unofficial count of the nearly 2.2 million votes cast.
Although he was expected to handily win re-election, Sen. Warner, a Democrat, was behind for nearly four hours before votes from precincts in Northern Virginia finally gave him a lead around 11 p.m. to the relief of his backers.
Mr. Gillespie is still hoping against hope, and refused to concede as of the Free Press deadline Wednesday night. He is awaiting official results from this week's canvass by the state Board of Elections. He could request a recount if his loss by less than 1 percent of the total votes cast proves accurate.
Examination of the results by locality indicates Sen. Warner's apparent win was the result of strong African-American support in Richmond and other urban areas, as well as his strong showing in the state's largest population center, Northern Virginia.
This is a victory Sen. Warner's party desperately needed after a night in which Republicans generally swamped Democrats, picking up seven Senate seats to seize control of the upper chamber and gaining the largest majority in the U.S. House of Representatives in nearly 70 years.

Sen. Warner's victory Tuesday is a far cry from his 2008 win when, running down ticket during the initial presidential race of then-Sen. Barack Obama, he beat former Gov. Jim Gilmore by 1.1 million votes. Sen. Warner credited Tuesday's win to his commitment to be the kind of legislator people want, someone wiling to "work across party lines and actually put the people's business first."
In his victory remarks, the senator said the election shows that the "people of America want us to move past sound bites. They want us to move past politics. They want us to get out of political gridlock. And they want us to make sure to get the job done for you and actually govern." And that, he pledged, is what he will seek to do in his new term.
This was the closest Senate race since 2006, when Democrat Jim Webb upset Republican George Allen, then the incumbent, by about 9,000 votes, a result confirmed in a recount.
While Sen. Warner was not expected to win in a cakewalk this time, most polls suggested the politician who enjoys the highest voter approval rating among Virginia's elected officials, would win by 7 to 10 percentage points.
One person who found the closeness of the race unsurprising is former Gov. L. Douglas Wilder, who remembers winning his historic 1989 race to become the first elected African-American state chief executive by a razor-thin 6,741 votes.
Mr. Wilder, who campaigned with Sen. Warner in the final push before Tuesday's vote, told the Free Press of his advice to Sen. Warner: "I told him not to believe the polls — that they were not accurate." At the time, the polls also showed an easy win for Mr. Wilder.