Virginia now for all lovers
Jubilant couples head to courthouse for marriage licenses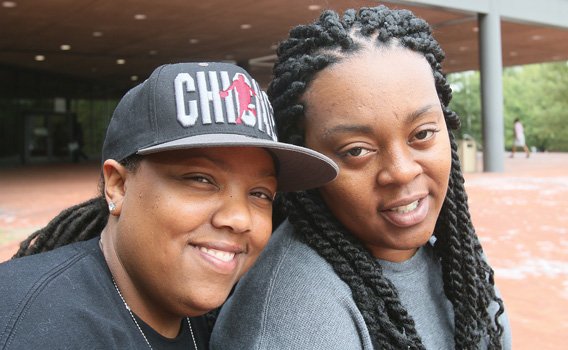 Shamika Fauntleroy accompanied her father Tuesday morning from their hometown of Tappahannock to the VCU Medical Center, where he was to undergo surgery.
"My father looked at me when we got there and told me to go take care of my business first," Ms. Fauntleroy told the Free Press.
She and her longtime partner, Kristea Thompson, then drove the short distance to the John Marshall Courts Building in Richmond's Downtown, where they bought a marriage license around 10 a.m.
The two Tappahannock residents became the first African-American couple and 12th overall to purchase a marriage license from the Richmond Circuit Court Clerk's Office after the U.S. Supreme Court cleared the way for same-sex marriages in Virginia and four other states Monday.
They told the Free Press they plan to wed as soon as they can make the arrangements.
The partners of 10 years already had celebrated their union at a Sept. 6 commitment service with family and friends at a home off Riverside Drive on South Side.
"We already had that bond, but we wanted to take care of it legally as well," Ms. Fauntleroy said.
On Monday, the Supreme Court effectively allowed same-sex marriage to proceed in Virginia when it refused to take up a 4th U.S. Circuit Court of Appeals ruling that overturned the same-sex marriage ban.
Gay and lesbian couples hurried to Virginia courthouses shortly after the news.
Edward F. Jewett, clerk of the Richmond Circuit Court, said his office anticipated the change and, in August, changed gender references on marriage licenses to refer instead to spouses rather than husband and wife.
Ms. Fauntleroy, 28, said she was on her job as an assistant manager at a Hardee's restaurant in Warsaw when she heard the news that the marriage ban had been lifted.
"I was like this," she said, gleefully raising her arms with a mile-wide smile. "We had waited so long for this moment."
She called the Essex County Circuit Court about a license, "but they had no idea what had happened and could not help us," she said.
That's when she and Ms. Thompson formulated plan B — to buy a license in Richmond.
"This brings me the happiness I always wanted, to be able to legally say I'm going to share my life with her," Ms. Fauntleroy said, sitting outside the John Marshall building with her future wife.
"It's a blessing," Ms. Thompson, 30, an employee at June Parker Oil Co. in Tappahannock, added. "This shows things are changing in each and every way."
The couple has raised Ms. Thompson's 6-year-old niece, Vayonna, since birth, after Ms. Thompson gained legal custody of her. The bright-eyed child accompanied the pair to the courthouse, along with another young family member.
Ms. Fauntleroy said the ruling also gives her the legal right to share her job benefits, such as health care and pension, with Ms. Thompson. "She deserves everything I have, and I want her to have it," she said.
The couple met as classmates at Washington & Lee High School in nearby Montross and have been together since July 11, 2004. Ms. Fauntleroy said everyone in their small community knows and respects their love for one another.