City's new CAO
Jeremy M. Lazarus | 4/17/2015, 12:10 p.m. | Updated on 4/17/2015, 12:29 p.m.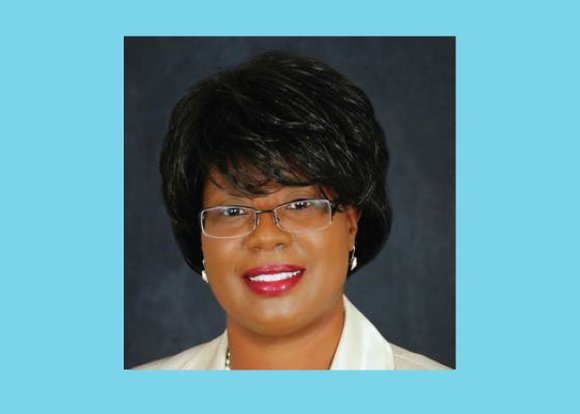 In her seven years of managing the City of Suffolk, Selena Cuffee-Glenn has garnered serious attention for turning the once nearly bankrupt city into a job magnet with a triple A bond rating.

Mayor Dwight C. Jones hopes that she will be equally successful in Richmond.
He introduced Ms. Cuffee-Glenn on Wednesday as his choice for chief administrative officer, or CAO, of Richmond. She will hold the No. 2 post to the mayor at City Hall.
A former planner at City Hall for 17 years, Ms. Cuffee-Glenn will be the second woman to fill Richmond's top professional management post. The first woman to serve as Richmond's CAO was Sheila Hill-Christian. During the administration of former Mayor L. Douglas Wilder, she served as CAO from October 2007 to July 2008. She is now assistant city manager in Cincinnati, Ohio
Anticipating quick confirmation from City Council, Mayor Jones said Ms. Cuffee-Glenn would join his administration May 18.
A Chesapeake native, she accepted the mayor's offer of a $203,000 annual base salary, a boost from her Suffolk salary of around $180,000 a year and at least $23,000 more than the city's previous CAO.
Ms. Cuffee-Glenn will take over from Christopher L. Beschler, who has served as interim CAO since Byron T. Marshall's departure last September.
For the time being, Mr. Beschler is expected to return to his post as deputy chief administrative officer for operations.

"I'm excited to bring Selena back to Richmond because she possesses the professional management and administrative skills we need right now," Mayor Jones said at a morning press conference at City Hall.

He said a manager like Ms. Cuffee-Glenn is essential for a city that has "too many needs and not enough money to meet them all."
He has been impressed with the work Ms. Cuffee-Glenn has undertaken for Suffolk and believes she can help him avoid raising taxes or cutting services.
He said he chose Ms. Cuffee-Glenn to help him meet his goals of getting the city to make wiser "use of its resources, operate more efficiently and effectively" and become "an easier place to do business with" and "a place that gets things done."
He did not mention whether he would call on her to revive his plan to redevelop Shockoe Bottom with a ballpark.
"I truly feel blessed to have the opportunity to serve as your CAO and advance your priorities and partnerships with City Council, schools, our residents and business community," Ms. Cuffee-Glenn said in brief remarks.
"The resurgence of this city will transcend our wildest dreams" as a result, she said.
She is taking on the job as Mayor Jones nears the end of his tenure. He will be out of office in less than two years on Dec. 31, 2016, so her decision appears to reflect confidence that the next mayor will keep her on.
The new CAO will manage a far larger city than Suffolk, which has a population of about 90,000 and budget of about $500 million a year. Richmond has about 214,000 people and a total budget that tops $1.3 billion a year. She oversaw more than 800 employees in Suffolk; here, she will supervise more than 4,000 city workers.
Still, her message in Suffolk appears to mesh with that of Mayor Jones, who has spent his six years in office pushing to gain a triple A bond rating as his signature achievement.
In Suffolk, she reportedly made efficiency, effectiveness and accountability her watchwords as she reorganized the management structure and closed a cumulative budget deficit of $17 million between 2008 and 2012.
During the same period, she reported to Suffolk's council members that she added $20 million to the budget by leveraging efficiencies and identifying cost savings without proposing layoffs or reductions in the city's workforce.
The result: Standard and Poor's awarded Suffolk a triple A bond rating while other bond rating agencies upgraded their ratings. Moody's reported its improved ratings were a direct result of the city's "strong management team."
While she faced criticism for proposing budgets that did more to raise management salaries than invest in the city's school system, she also won praise for guiding the city's recovery from a 2008 tornado that caused $20 million in damage and helping the city bounce back from the loss of a major military command center.
Her success in leading the city's financial turnaround has been noted by CNN Money and Money magazines, which both have listed Suffolk on their top places to live and find jobs.
Since she took over in 2008 as the first African-American and first woman city manager, Suffolk has enjoyed a billion dollars in capital and business investment and added 7,780 new jobs to the local economy.
A graduate of the University of Virginia, where she also earned a master's degree, Ms. Cuffee-Glenn brings more than 30 years of government experience to her post.
Before leaving Richmond in 2005 to become an assistant city manager for development in Suffolk, she served four years as director of planning and community development for the Richmond Redevelopment and Housing Authority. While there, she directed an economic and neighborhood development portfolio totaling more than $300 million in public and private investments.
Earlier, she served two years as deputy director for the city's Division of Housing and Neighborhood Preservation. She gained that post after working 15 years as a principal planner and senior planner in the city Department of Community Development.
During her time in Richmond, she was involved in the coordination of more than $100 million in downtown redevelopment efforts and neighborhood revitalization programs.
She also served as board chair of the Richmond-based Virginia Federal Credit Union.
From 1990 to 1995, Ms. Cuffee-Glenn also was an adjunct professor at Virginia Commonwealth University, where she taught graduate courses in urban planning, community change and empowerment, and the art of negotiations.