Tale of the tests
Richmond SOL scores rise, but still below state average
Jeremy M. Lazarus | 8/13/2015, 1:28 p.m. | Updated on 8/14/2015, 7:53 a.m.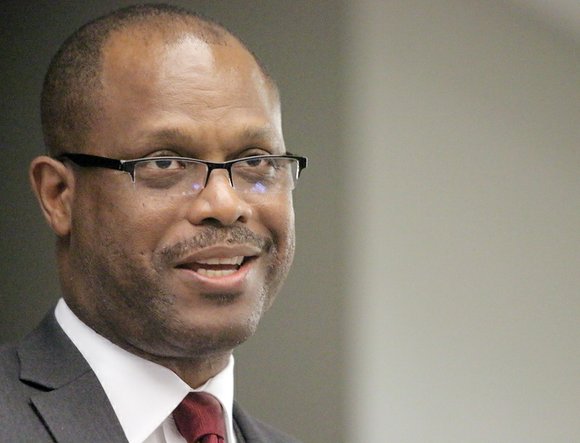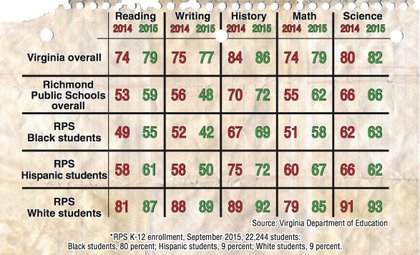 The good news: More students in Richmond Public Schools passed state Standards of Learning tests in reading, history and math in spring 2015 compared with the previous year. That's in line with the state trend of rising pass rates.
The bad news: The pass rates during Superintendent Dana T. Bedden's first full academic year show the percentage of the city's 23,000 students succeeding on the SOL tests in Richmond is still well below state pass rates in core subjects.
And in one area, writing, the percentage of Richmond students who passed dropped eight percentage points — from 56 percent in 2014 to 48 percent, according to results released Tuesday by the Virginia Department of Education.
The pass rates will determine school accreditation, which will be announced later. This year, only 11 of the city's 44 schools were fully accredited based on 2014 test results.
In a statement issued Wednesday, Dr. Bedden found the results "clearly indicate that Richmond Public Schools continues to make progress."
He pointed to "the strides made by our students in mathematics (up seven percentage points from 2014), reading (up six percentage points from 2014) and history (up two percentage points from 2014)."
He also acknowledged that a drop in the writing pass rate "shows that opportunities for improvement remain. These results further underscore the importance of the Academic Improvement Plan (AIP) we have designed to (help) our students improve their academic performances so they can meet or exceed academic standards in the years ahead."
School Board Chairman Donald Coleman, in a separate statement to the Free Press, noted that "RPS is committed to seeing SOL scores improve" and expressed his belief that the AIP would make that happen and result in more fully accredited schools.
The 7th District representative also called on all residents to "do all we can to help our students recognize the importance of education" and to support public education as a "top priority" so Richmond can reach "its potential as a thriving city."

Kristen Larson, the School Board's vice chair, stated in an email that the positive test results provide "a good start to this year's implementation of the district's Academic Improvement Plan.
"Overall the district is headed in the right direction, but there is still a lot of room for improvement and work to be done," the 4th District representative added.
The results make it clear that Dr. Bedden's efforts to turn around academic achievement remain a work in progress.
Consider the results on SOL reading tests. Across the state, the VDOE reported that 79 percent of students passed their SOL reading tests in 2015, up 5 percentage points from the 74 percent that passed in 2014.

In Richmond, 59 percent of students passed reading tests in grades three through high school, up six percentage points from the 2014 result of 53 percent, but still 20 percentage points below the state.
In the math arena, 62 percent of Richmond students passed SOL tests, up 7 percentage points from 2014 when 55 percent passed. But across the state, 79 percent of students passed the 2015 round of SOL math tests, 17 percentage points higher than the city's pass rate.