Football debut for Huguenot's stadium
Fred Jeter | 8/28/2015, noon | Updated on 8/28/2015, noon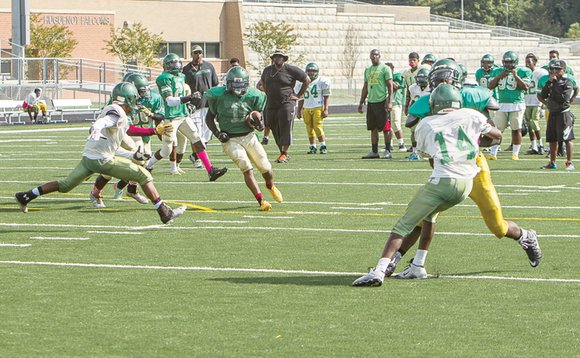 In the final scene of the "Wizard of Oz," Dorothy says over and over, "There's no place like home. There's no place like home."
On Richmond's South Side, Huguenot High's Falcons would like to add an "amen" to that notion.
After three years of "have bus, will travel," Huguenot has a sparkling new on-campus stadium with synthetic turf to call home sweet home.
"It's like night and day," second-year coach Bryan Jennings said of the difference between last year. "Now we've got the top facility around the city … around the area."
The Aug. 29 opener against Thomas Jefferson will be Huguenot's first home game since 2011.
The last three home seasons were lost to construction as old Huguenot was demolished and replaced by an entirely new building — the first new high school building since the former John F. Kennedy building (now Armstrong's home) opened in the late 1960s.
It has been tough going for the Falcons, who haven't had a winning season since 2006 when Richard McFee was coach.
Every game and every practice has required boarding a bus.
Even "homecoming" involved a bus ride to City Stadium.
Practices were held at Lucille Brown Middle School and the Westover Hills Playground.
Falcons can empathize with Dorothy.
Every Friday road game was akin to having to battle the wicked witch and her flying monkeys on foreign turf — and in Huguenot's case, there were few Hollywood endings.
Now everything is comfy and cozy right behind the school.
"For the first time in a long time, we'll have Friday night lights, like other schools. This will mean so much to our team, the band, the community, everyone," said Jennings, a former All-Big East star at Virginia Tech.
"We're all excited, but now we have no excuses."
Huguenot was 1-10 last year and 1-9 in 2012 and 2013. The only three victories those three seasons were over beleaguered South Side rival George Wythe.
Jennings boasts a roster with considerable of size and speed — and new found enthusiasm.
He rates linebacker Jamico Coleman, receiver Freddie Vincent, running back Rayquan Harris, quarterback Blake Paige and linemen Noah Williams and Brennan Thomas among the area's top college prospects at their positions.
And this year Jennings adds depth to go with about seven returning starters on each side of the ball.
Jennings has about 65 athletes on JV and varsity combined and said, "We're adding more every day."
Following the matinee with TJ, the Falcons will play three straight Friday nights at home against Lafayette, Manchester and James River.
You almost need sunglasses to block the glare. Huguenot High has become the Falcons' Emerald City.
---
While Huguenot's dreary era of being an all-time road warrior is over, the same can't be said for neighboring George Wythe.
Except for a handful of games over more than a half-century, the Bulldogs have never enjoyed a true home field advantage since the school's inception in 1960.
And here's worse news: There's no relief in sight.
The results echo the frustration. Try as they may, the Bulldogs have suffered through an agonizing succession of 0-10 and 1-9 seasons and predictable coaching changes.
Meanwhile, its breaks the Bulldogs' tender hearts to gaze across town and see a now empty facility built in a blink to accommodate a carpet-bagging pro team.
It seems even more unfair when you realize that the pampered pro squad had more losses (25) than even George Wythe's Bulldogs endured in the past two years.