Huguenot wins opener over TJ
Fred Jeter | 9/4/2015, 4:58 a.m.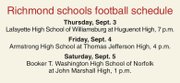 So far, so good.
Huguenot High School is undefeated, untied and unscored upon, albeit after just one game in a new era of Falcons football.
Led by Jameko Coleman's defense and the rushing of Donte Lester, the Falcons are pumped after christening their new stadium last Saturday with a 14-0 win over Thomas Jefferson High School.
In their second season under Coach Bryan Jennings, the Falcons got plenty of traction on their synthetic turf field.
"A typical opener," said Coach Jennings. "Too many turnovers (five), but we did just enough to win. It's a testament to our defense to overcome the mistakes."
Linebacker Coleman scored Huguenot's historic first touchdown at the new digs with a third period interception and a 16-yard return.
"I saw (the receiver) coming and cut in front of him," said Coleman. "Once I caught it, all I could see was the end zone."
The 6-foot-2, 220-pound Coleman was in the right place at the right time, even if he was wearing the wrong number.
Listed on the program as No. 7, Coleman was wearing the No. 81 jersey instead of his number because of a wardrobe malfunction.
It took a while for statisticians in the press box to sort out the facts and to credit Coleman over the public address system with the touchdown.
"We couldn't find No. 7 this morning," Coleman explained. "But actually I like 81. That's the number Coach (Jennings) wore at Virginia Tech."
An inside linebacker, Coleman was a wrecking ball in the middle of the Huguenot defense all afternoon. He out-muscled the Vikings' blockers and manhandled Thomas Jefferson ball carriers for 14 tackles.
Offensively, the headliner was Lester, who was in his first starting assignment after backup duty a year ago.        
"My blocking set the tone, and I love running on turf more than grass," said Lester, who sped for 142 yards, a touchdown and a 2-point conversion.
It marked Huguenot's first home game in four years.
The Falcons had been relegated to being weary road warriors during the last three years while their new school and stadium were under construction.
The Falcons also had become familiar with hard times. Last Saturday's win was Huguenot's first over anyone but George Wythe High School in the last six seasons.
The new stadium, with a seating capacity of 3,500, was about half full. The fans were curious to see the new facility as well as the team, and they came hungry, literally.
There were long lines at the concession stand, lured by the enticing aroma of fried fish. Two deep fryers working overtime rivaled the game itself for attention.
Allow the Falcons and their long-suffering fans a week of celebration and digestion, because reality is knocking on the door.
The next three games, all at home, will feature Williamsburg's Lafayette High School on Thursday, Sept. 3, followed by Chesterfield's Manchester High School on Sept. 11 and Henrico's James River High School on Sept. 18.
Last fall, Huguenot lost to all three by a combined 136-20.
Cynics might suggest more of the same.
Instead, wishful Huguenot would rather believe this is a new year, a new era, with a new slogan. The Falcons insist that, this year, "The bird is the word."