TJ's Jahlin Russell works like a wrecking ball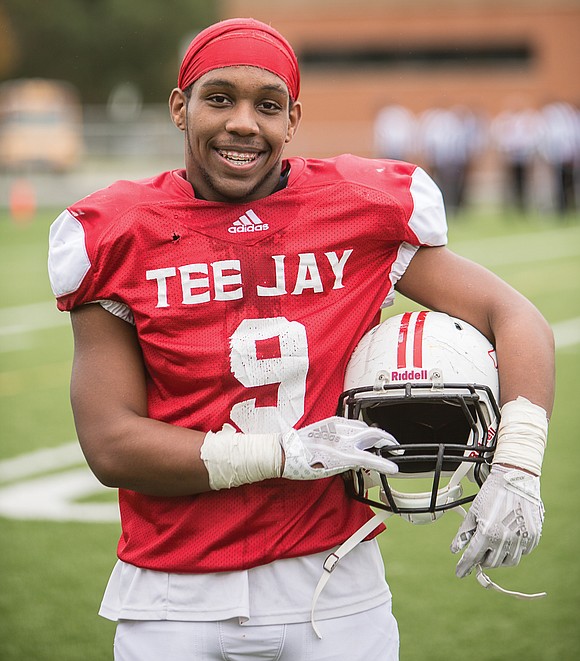 City showdown
Saturday, Nov 3
John Marshall High School plays at Thomas Jefferson High School. Kickoff: Noon.
It's no surprise Jahlin Russell plays football.
The Thomas Jefferson High School senior is quick, strong, aggressive and fearless. He doesn't back down.
What is surprising is that at 5-foot-7 and 169 pounds, he plays positions — defensive tackle and nose guard — generally in terrain dominated by behemoths.
Russell is a middleweight competing in the super heavyweight division — and he couldn't be happier.
"Jahlin likes it in the trenches," said Vikings Coach P.J. Adams. "But that's the way we are. We don't have the size, so we try and out-athlete you."
The strategy is percolating nicely, both for Russell and a Vikings program on the rise.
Wearing No. 9, a backfield number, Russell made the second-team All-Conference 3B last year as a tackle. He has picked up the pace as a senior.
Through Thomas Jefferson's first eight games, Russell worked like a non-stop wrecking ball smack dab in the middle, foiling whatever the opposition was trying to achieve.
Among his 77 tackles, he had nine sacks. His best game was against the Vikings' highest-ranked foe, Goochland High School, when he collected 12 tackles, including five for losses, and three sacks.
"I could play other positions, but that's why I play on the line — I like contact," he said.
Russell makes up for height and weight with heart, hustle, speed off the ball and a determination to prove the skeptics wrong.
"People underestimate me," he said. "But once the game begins and they see me on the field, they change their minds."
And what about the possibility of getting pounded all day or night by an opponent 50 to 75 pounds larger?
"I'm not scared," he said, with a grin.
Russell's younger brother, Jordan, is an offensive lineman for the Vikings. An older brother, Garrick Williams, was a running back on last year's team.
Ancient rivals: The Thomas Jefferson High-John Marshall High rivalry ranks among Virginia's oldest, dating to the early 1900s. Traditionally, the game drew overflow crowds as the season finale at City Stadium.
For many decades, Thomas Jefferson and John Marshall were the only comprehensive VHSL schools in Richmond. Maggie Walker and Armstrong played in the segregated VIA and did not face John Marshall and Thomas Jefferson until the early 1970s.
Playoffs update: Thomas Jefferson (5-4 after a 13-9 win over Campbell High School on Saturday, Oct. 27) is in a solid position to host a first round Region 3B game for the second year in a row. The game likely would be played at Armstrong or Huguenot. A long overdue new field is scheduled to be installed at Thomas Jefferson later this school year.
No light switch: Thomas Jefferson is handicapped by no field lighting during late fall. As darkness falls earlier and earlier, practices are cut shorter. Coach Adams said a reason he likes Saturday games is to squeeze in more practice time on Fridays.
Youth movement: Sophomore quarterback Jalen Jones is among a large cast of youngsters in Coach Adams' starting lineups. Jones wasn't with the Thomas Jefferson team last year, opting to play for the Central Virginia Hurricanes.