Richmond schools seek money to fulfill needs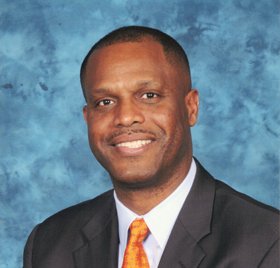 Lucille M. Brown Middle School is facing a serious communications problem.
The South Side school has not had a working intercom system since December.
In the meantime, the school, led by Principal Jonathan Morris, has instituted measures for schoolwide communications should an emergency arise, equipping administrators and school security with megaphones, two- way radios and other means to interact with one another.
The Richmond School Board approved a $72,000 appropriation at its Jan. 19 meeting to install a new intercom system, but replacement work has not begun.
In other developments, 10 new buses acquired by Richmond Public Schools in a lease-to-own agreement signed last summer "have been wrecked," Thomas Kranz, assistant superintendent of support services, told the board.
"Some were our fault; some were not our fault," he later told the Free Press.
Mr. Kranz said one bus did not make it out of the bus parking lot before it was wrecked. That drew laughter from some audience members attending the board meeting.
Mr. Kranz said the wrecked buses have been repaired and are back on the road.
He said three more of the lease-to-own buses are in use for RPS, bringing the total to 63 now on the road. He said he expects the remaining 15 to arrive soon after they pass two rounds of inspections.
The announcement of the broken intercom system and bus crashes came on the same night Schools Superintendent Dana T. Bedden presented his "Estimate of Needs" financial wish list to the School Board. It was designed to fuel the academic improvement plan he introduced a week earlier.
In a dramatic move, he has proposed that the city increase its contribution to public education by an unprecedented 22 percent to fuel a turnaround in learning — an increase that would amount to $30 million in fiscal year 2016, which begins July 1.
Should that increase be approved, the city's contribution for public education would increase from a projected $136 million to $166 million in the upcoming fiscal year. That would raise the city's investment in Richmond's 23,000-plus students from about $6,100 per pupil by about $1,350 to $7,450 per pupil.
Mayor Dwight C. Jones, who is expected to present his proposed two-year budget March 6, already has indicated to the board that he does not believe the city can afford to provide an extra $30 million for public education.
The $30 million would equal the money the city spends to operate the public libraries and its public parks and recreation centers, provide a 9-1-1 call center and support the city's health district.
Still, should Dr. Bedden get his way, he would be able to undertake what he told the board was an "aggressive and bold plan" to improve student learning. His proposal calls for spending the lion's share of new funds on personnel, including hiring 125 new people to beef up instruction and to pay teachers for working an additional nine days to improve professional development, a cornerstone of Dr. Bedden's efforts to expand academic achievement.