Drive-thru order comes with $4,500
Jeremy M. Lazarus | 7/25/2015, 7:06 p.m. | Updated on 7/25/2015, 7:06 p.m.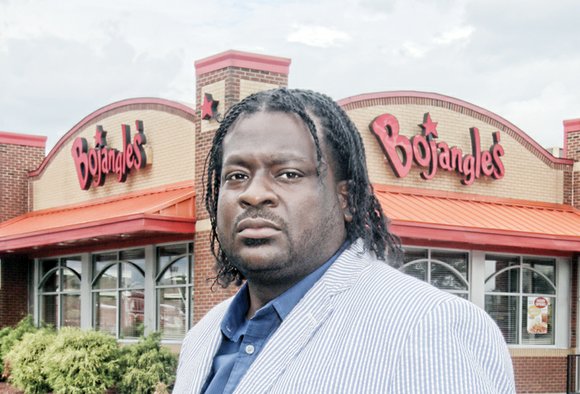 The surprising story of Richmonder James "J.J." Minor and the Bojangles' fried chicken chain now is circulating everywhere the English language is read, thanks to the Internet and social media.
The story began simply enough: Mr. Minor was a customer who wasn't pleased when the chicken he ordered at a Bojangles' drive-through window turned out to be cold.
So he asked the drive-thru attendant at the chain's outlet at Laburnum Avenue and Nine Mile Road to replace his order with hotter food.
He got a shock when he received a box a few minutes later.
Instead of piping hot chicken, he found "a bunch of cash and SunTrust deposit slips in my box."
The box contained about $4,500, he said.

Mr. Minor, who serves as chair of the Richmond Democratic Committee, said he was worried that "someone was trying to set me up." He parked his car and rushed inside to return the cash.
He located a manager and returned the money, but still had questions.
He said he asked, "Why am I receiving this type of money? Is this a setup? Is someone stealing?"
When he asked what would have happened if he hadn't returned the money, the manager responded with what Mr. Minor considered a snippy remark: "We would've called the authorities on you."

He said he quickly felt his good deed was not properly appreciated.
"Most folks would just have driven off and learned about their find after they got where they were going," he said.
If Mr. Minor was looking for a sizeable reward, he didn't get it. Another manager came out to his car offering effusive thanks and a complimentary tailgate party. He said he didn't want it.
In response, Mr. Minor called the Bojangles' corporate headquarters. While the company is checking into the situation to make sure it doesn't happen again, Mr. Minor said he was offered a $100 gift certificate. He turned that down, too.
"In the end, it's not about a cash reward," he said. "It's about doing the right thing and not being disrespected by a big corporation when you do."