Personality: Amory M. James
Spotlight on chef, manager of FeedMore Community Kitchen
5/22/2015, 11:40 a.m. | Updated on 5/22/2015, 2:49 p.m.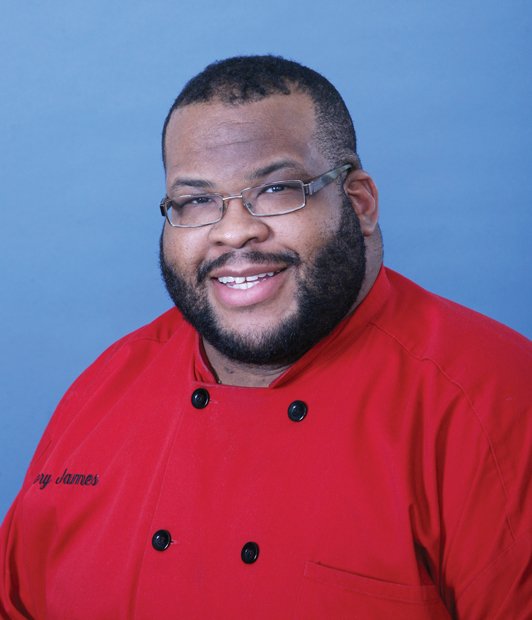 Chef Amory M. James, food production manager of the FeedMore Community Kitchen, his staff and volunteers cooked up something extra special this week.
They prepared the 7 millionth meal provided by Meals on Wheels in Central Virginia since the program was founded in 1967. Community volunteers deliver meals to homebound seniors, the disabled and chronically ill people in Richmond and surrounding communities who are unable to prepare meals for themselves.
Chef James, 35, helped deliver the record-setting meal of shaved rib-eye steak, spinach soufflé, honey-glazed carrots, a whole wheat roll and layer cake with icing to a homebound 102-year-old resident of the Lakeside community in Henrico County.
Louise Tramontin, 97, who has volunteered with Meals on Wheels since its inception, helped deliver the meal on Tuesday.
Chef James says he was thrilled to help lead the historic occasion.
"I'm blessed to be able to provide nutritious, scratch cooked meals and I'm ready to see 7 million more," he humbly declares.
He also praises those who assist him each day in the Community Kitchen at the FeedMore complex, 1601 Rhoadmiller St. on Richmond's North Side.
"Many accolades should be given to my staff of 12 and countless volunteers who contribute their all on a daily basis," the Chesterfield County resident says.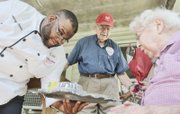 In 2005, Meals on Wheels of Central Virginia and the Central Virginia Food Bank came together to build the Community Kitchen to produce meals for their clients. The collaboration led to a formal merger of the two organizations, creating FeedMore in 2008.
Currently, according to FeedMore officials, the group helps more than 200,000 children, families and senior citizens each month in Central Virginia.
When Meals on Wheels started nearly 50 years ago, it served eight clients. Now, it serves about 700 people each day in an area that extends from Ashland to Petersburg and from Charles City to Louisa counties.
Chef James oversees recipe and menu development for Meals on Wheels of the 1,300 meals that are prepared each day. He also oversees the production and staffing arrangements. Kitchen personnel work weekdays from 7 a.m. to 4:30 p.m.
Through FeedMore, he also oversees food preparation for Kids Café, an after-school food program sponsored by the U.S. Department of Agriculture; four adult day care centers; and The Daily Planet's respite care operation near Virginia Commonwealth University.
Chef James describes the variety of meals his kitchen prepares as "homestyle specialties with a variety of cuisines from around the world."
He says he's inspired by "the smile of the person who is able to sleep in their bed tonight because they had a delicious meal to eat."
He estimates he's helped prepare more than 700,000 meals since he began working with FeedMore two years ago. He says he cannot "imagine not having a service like this for the seniors in our communities."
When he's not preparing meals, Chef James serves as an associate minister at New Direction Evangelistic Church in Chesterfield County.
Here's a look at this week's Personality, Chef Amory M. James: