Free Press endorsements for 2015 Virginia elections
10/30/2015, 9:24 p.m.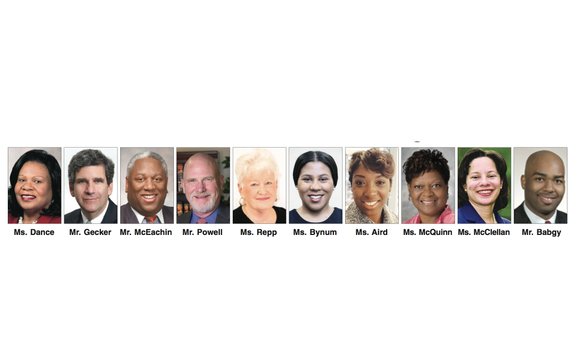 In the 9th District, we ask voters to cast a ballot for incumbent Sen. A. Donald McEachin of Henrico. Sen. McEachin has served the public well for a cumulative 16 years in the Virginia General Assembly. While we were not pleased with his failure to go to bat for Richmond District Court Judge Birdie Jamison during blatant political maneuvers earlier this year by Republicans tanking her re-election to the bench, Sen. McEachin has emerged as a leader in the Senate. His seniority will be even more useful should Democrats regain control of the Senate following the election.
Largely for that reason, the Free Press supports E. "Wayne" Powell, a Democrat, for the 11th District Senate seat and Democrat Deborah M. Repp for the 12th District Senate seat.
House of Delegates
Area races for the House of Delegates don't hold a lot of interest or urgency, with many of the races uncontested. However, we still urge voters to go to the polls and support the following candidates:
Political newcomers Sheila C. Bynum, 62nd District, and Lashrecse D. Aird, 63rd District.
A novice to politics, Ms. Bynum of Chesterfield would be a breath of fresh air over longtime incumbent Delegate Riley E. Ingram, a Republican from Hopewell who has represented the district for 23 years. Ms. Bynum has the energy, fresh ideas and a real interest in and commitment to the people of the area. We believe she would work hard for the best interests of her constituents and the people of the commonwealth if elected.
Ms. Aird is running for the open House seat formerly held by Sen. Rosalyn R. Dance. A hard worker, Ms. Aird serves on the Petersburg Planning Commission and got a clear picture of what it takes to represent constituents in the General Assembly as Sen. Dance's former chief of staff. She understands the funding needs of the state's public institutions of higher learning.
We also urge voters to turn out to support incumbent Delegates Betsy B. Carr and Delores L. McQuinn, in the 69th and 70th districts, respectively. Both are running unopposed. And we endorse incumbent Delegate Jennifer L. McClellan, 71st District, who is both thoughtful and responsive when it comes to her work in the legislature.
In the 68th District race between incumbent Delegate G.M. "Manoli" Loupassi, a Republican, and challengers Bill K. Grogran, a Democrat, and independent candidate Michael R. Dickinson, we see no one worthy of endorsement. Delegate Loupassi's statement of concern for the welfare of all Virginians is disingenuous given his voting record in office. Mr. Grogran's ideas for merit-based free education are misguided and flawed, along with his regressive tax proposal that would place a heavier burden on lower-income families than the wealthy.


In the 74th District, we support Delegate Lamont Bagby, a former member of the Henrico School Board, who was sworn into the General Assembly on July 23 after a special election. While an opponent, David M. Lambert, will be listed on the ballot, he, too, has withdrawn. We look forward to Delegate Bagby offering positive ideas and contributions in the coming term.