Personality: Julia Warren
Spotlight on founder of nonprofit celebrate! RVA
9/11/2015, 12:57 a.m.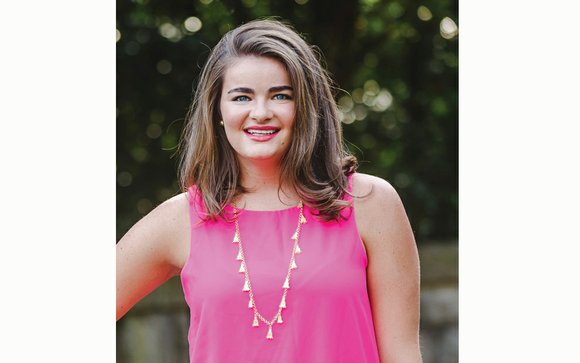 Julia Warren believes children in disadvantaged communities should be able to enjoy a big birthday bash in a safe and fun environment.
That's why she says she founded celebrate! RVA in January 2013.
"We provide classic birthday activities, cake, candles and lots of love to give children a memorable birthday celebration," she says.
"We are firm believers in the power of celebration and the impact it can have to help a child in need," she adds. Ms. Warren, who also serves as executive director of the group, says she came up with the name for the nonprofit organization after brainstorming with "one of my dearest friends."
She founded the program when she was a senior at St. Catherine's School in the West End.
Ms. Warren now attends Randolph-Macon College in Ashland, where she has a double major in business and economics with a minor in psychology.
celebrate! RVA currently partners with Richmond Public Schools to throw birthday parties at Oak Grove Elementary School on South Side and Carver Elementary School north of the river.
The group provides a monthly birthday celebration for every child in the school with a birthday that month
That can include birthday celebrations for up to 40 to 50 children, Ms. Warren says.
"We can see first hand the complete and utter joy on their faces as we celebrate with them," she adds. She says about 800 children have celebrated their birthdays since the inception of the program.
During the parties, the children's activities range from play outside on the playground to arts and crafts and other activities with fellow celebrants.
Each child gets the opportunity to blow out candles on a cake.
The group also provides birthday parties for participants in the Safe Harbor program in Henrico County, which provides services for victims of domestic violence.
celebrate! RVA is financed through grants and donations and staffed by volunteers, Ms. Warren says. Further details can be found at celebraterva.org.
The real birthday girl is this week's Personality, Julia Warren:
Date and place of birth: April 2 in Richmond. 
Current place of residence: Richmond.
What party attire do you wear: If it's got bright colors or polka dots, it's probably in my closet. 
Most memorable birthday celebration: Each time we have the opportunity to celebrate a child is a memorable celebration for us! 
How I start the day: With a smile and a Diet Coke! 
I place top value on: My faith, my family and my friends. 
Favorite late-night snack: Popcorn and M&M's. 
Prized possession: I have two bracelets — one given to me by my parents, another from my aunt and uncle that I wear every day. They were both given to me at pivotal times in my life and remind me of the family that stands behind me and supports me every day. 
The one thing I can't stand: When people are rude. 
If I could wave a magic wand, I would: Give everyone a birthday party!
When I look in the mirror, I see: Confetti and party hats. 
Person who influenced me the most: I get asked this a lot, and I honestly will never be able to give the name of just one person. My life has been shaped by countless people. 
Book that influenced me the most: "The Glass Castle" by Jeannette Walls.
What I'm reading now: "Go Set a Watchman" by Harper Lee.
The one thing that I've learned in life is: If you want to help others, you have to remember to take care of yourself, too. 
My next goal: To celebrate every child in Richmond.