Another Barbara Johns?
Open High students plan citywide walkout to protest lack of funding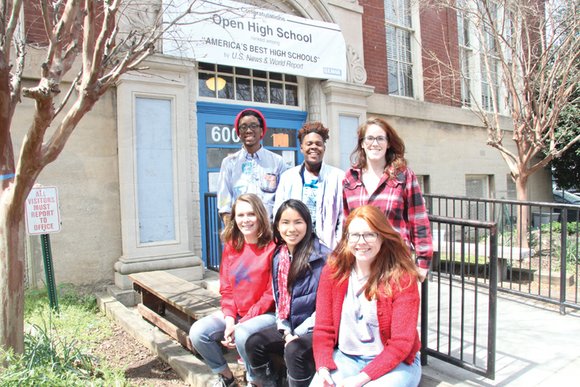 By Jeremy M. Lazarus
Imagine all 5,600 high school students in Richmond walking out to protest the physical conditions of their buildings.

Then imagine them overflowing the Richmond City Council chambers a few hours later to bring their concerns to the nine-member governing body.
That's the vision six Open High School students are trying to turn into a reality on Monday, April 11.

The intrepid band includes junior Christopher "Chris" Bowling, seniors Eva Chenoweth, Caroline McCaig, Emma Silverman and Michelle Strohecker and sophomore Naomi Thompson.
Using Facebook and other social media, the creators of the ad hoc "Students for RPS" are telling everyone they can reach online about their plans for the walkout.

"And we're enlisting students at other schools to pass out fliers" to spread the word, Caroline said.
The group's plan is to have all students walk out at 2 p.m. and then reassemble at 5 p.m. on the front steps of Richmond City Hall, 900 E. Broad St., to join teachers and parents in a public protest, followed by a parade into the Council Chambers on the second floor to speak after the City Council meeting begins at 6 p.m.
"We want a chance to make our case" that the council needs to spend more on schools, Caroline said.
"It's really not fair for us young people 14 to 18 to have to watch their school system crumble before our eyes," she said. "Adults who are in charge just don't seem to care, and we have to make them care."
As yet, the group has no idea how many students will take part. They believe most students at Open High will take part but, as Caroline put it, their school officials are supportive, while that may not be the case at the other schools.
"We're hoping at least a handful of students from each of the other schools will join in," Emma said.
This will be the second time in recent years that Open High students have led a protest over school conditions. Two years ago, at least 150 students shocked the city when they left their school and marched en masse to City Hall to address City Council about the decaying condition at their school on Pine Street in Oregon Hill.

Such efforts recall the high school walkout that Farmville student Barbara Johns engineered in 1951 to protest the deplorable conditions at Moton High School to which all African-American students were assigned — a protest that ultimately led to the U.S. Supreme Court decision in 1954 outlawing segregated public schools in Brown v. Board of Education.
"Students for RPS" has become a bigger deal than Caroline anticipated when she came up with the name as part of her senior project on advocacy.
"I wanted to learn more about advocacy," she said, appropriate given that her mother, Wendy McCaig, is founder and executive director of Embrace Richmond, an outreach ministry that promotes community betterment on North Side.
But amid the uproar over the condition of the public schools, the lack of raises for teachers and other issues, Caroline said she, Emma and Eva saw "Students for RPS" as an ideal vehicle to create a real advocacy group through which students could voice their opinions. Christopher, Michelle and Naomi quickly joined the effort.
The walkout plan took on more urgency and importance following Monday's School Board meeting where Superintendent Dana T. Bedden and his staff unveiled a drastic solution to help close a $18 million budget shortfall. The shortfall is the difference between the amount of local funds that Mayor Dwight C. Jones has proposed to spend on public education in the 2016-17 budget and the amount the School Board is seeking to provide pay hikes for teachers and other staff and to pay for an academic improvement program.
The drastic proposal calls for the School Board to close Armstrong High and four elementary schools and to relocate three specialty high schools into one unspecified building. The closings are projected to reduce building operating costs by $3 million, which could be shifted to Dr. Bedden's academic improvement program.
So far, Dr. Bedden has not said which specialty programs would be impacted nor has he said what school building might be used. But Caroline said she and her fellow students are worried that Open High might lose its independent space.
"Everyone was freaked out," she said after the proposal was made public.