Herring, Woody signal plans to run for re-election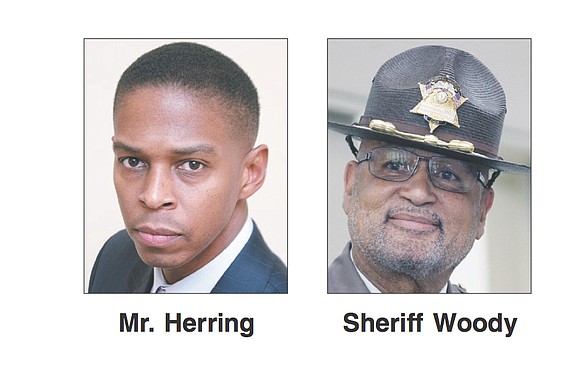 Richmond Commonwealth's Attorney Michael N. Herring and city Sheriff C.T. Woody Jr. already are gearing up to run for re-election next year.

However, the city's third constitutional officer, city Treasurer Eunice M. Wilder, 77, is keeping mum about her plans.
Largely overshadowed by the upcoming races for governor and other state offices, including the General Assembly, Mr. Herring, 51, and Sheriff Woody, 71, told the Free Press they will seek new four-year terms.
Mr. Herring has been mentioned for other offices, but has preferred to remain the city's chief prosecutor.
As it now stands, the Democrat could again run unopposed as he has done in his first three elections.
He was first elected in 2005, succeeding David M. Hicks, who left after 12 years to go into private practice as an attorney before becoming senior policy adviser to Mayor Dwight C. Jones and later a Richmond General District Court judge, the post he now holds.
Sheriff Woody, also a Democrat, said he's not ready to retire. He said he feels good and believes "there's more to do in the areas of mental illness and drug addiction" in explaining his decision to seek a fourth term, which he said would be his last.
If he is re-elected, he said he would continue to push for more community services to divert people who suffer from such problems from his jail, where "they do not belong."

Sheriff Woody is likely to again face opposition. Antionette V. Irving, a retired major with the Henrico County Sheriff's Office, has indicated in Facebook posts that she plans to challenge Sheriff Woody again.

She was among three challengers who lost to Sheriff Woody in 2013 when he won his third term.
Sheriff Woody, who came to the office after serving nearly 35 years as an officer and homicide detective in the Richmond Police Department, is used to contested elections. He won his first term in 2005 by unseating three-term incumbent Sheriff Michelle B. Mitchell.
Ms. Wilder has held the post of city treasurer since December 1992 when she was appointed to fill a vacancy in the office that long ago was stripped of any responsibilities for billing and colleting city taxes.
She won her first term in 1993 and has been challenged twice in the five times she successfully sought re-election to the office, which assists people with filling out income tax forms, collects unpaid state income taxes and sells hunting and fishing licenses.
"Why are you asking me? I haven't begun to think about it," Ms. Wilder told the Free Press when reached at her City Hall office.