Personality: Meldon Jenkins-Jones
Spotlight on founder of Black Male Emergent Readers Program
2/12/2016, 5:54 p.m.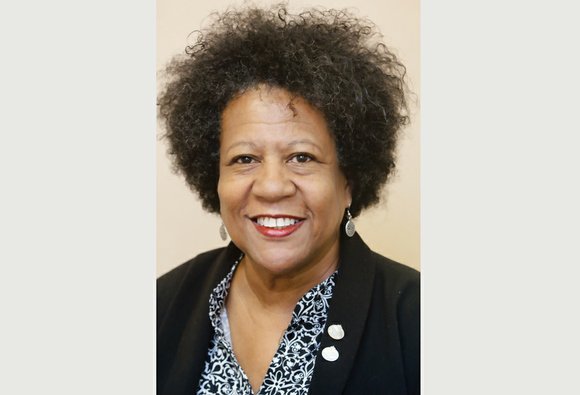 Meldon Deloris Jenkins-Jones has witnessed the difficulties some African-American children have learning to read. She explains how she watched her grandson struggle "despite the fact that his parents and I are educated. I wondered who would help children learn to read if they did not have a strong family background," she recalls thinking.
The Richmond resident, who is a law librarian for the Richmond Public Law Library in Downtown, says she began researching the subject and came across the work of Dr. Alfred Tatum, a reading specialist at the University of Illinois in Chicago.
She says Dr. Tatum's work "shows that our boys don't read because they are not motivated with relevant reading materials." Determined to help change that, Mrs. Jenkins-Jones founded the Black Male Emergent Readers (BMER) program in August 2013.
The program is based in the Richmond Public Library and its four-fold mission, Mrs. Jenkins-Jones says, is to motivate "our young men to read more, communicate effectively, develop a better self-image and create a positive network, becoming active participants in the community."
The program seeks to "provide enabling texts and programs for young black males in our community," according to the library's website.
Mrs. Jenkins-Jones says she is motivated to help youngsters through the program because data show "low reading scores and high dropout rates result in poor job skills, unemployment, and in some cases, increased gang activity and crime for too many of our young men."
She says the ultimate goal is "to get more African-American males reading, improving academically, empowered with job skills and engaging positively with the community through empowering texts which appeal to their natural concerns for social justice issues."
Next up for the Black Male Emergent Readers is a program and discussion honoring 14 African-American male authors from Virginia.
The free event will be held from 5 to 8:30 p.m. Wednesday, Feb. 17, at the Richmond Public Library Main Branch, 101 E. Franklin St., in Downtown.
"This will be the first of four quarterly programs demonstrating to teens, mentors and educators the whys and hows of motivating young African-American males to read more," she explains.
Read more about this week's empowering Personality, Meldon Deloris Jenkins-Jones:
What my job in the law library entails: I assist the public, students, including future paralegals and legal assistants, attorneys and judges with locating and using legal resources, including print, computerized legal databases in the library and free legal websites. I initiated the "Know Your Rights" Community Law Series of classes taught by local attorneys. I also teach classes in Legal Research and Legal Writing here at the Law Library. All of our classes and programs are free and open to the public.
Date and place of birth: Jan. 26 in New York.

Alma maters: Bachelor's degree, Smith College; master's degree, Florida State University; doctor of jurisprudence, Rutgers University.
Family: One son, Alexander I. Jenkins; one daughter, Meldon D. Jones.
Black Male Emergent Readers Program is important because: So many young men are not engaged academically and wind up being pushed into the school-to-prison pipeline, limiting their growth as young people and removing them as resources in the community.