Obama cheered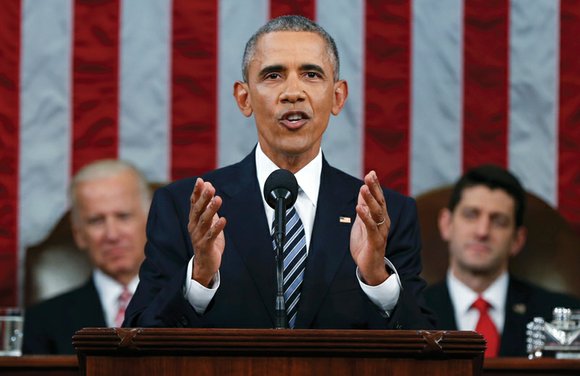 President Obama took aim on Tuesday at Republican presidential front-runner Donald Trump and accused critics of playing into the hands of the Islamic State in a speech meant to cement his legacy and set a positive tone for his final year in office.
Delivering his last annual State of the Union speech to Congress as president, he called for leaders to "fix" U.S. politics and criticized candidates such as Mr. Trump for using anti-Muslim rhetoric that betrayed American values.
"When politicians insult Muslims ... that doesn't make us safer," he said, drawing applause from the crowd in the House of Representatives chamber. "It's just wrong. It diminishes us in the eyes of the world. It makes it harder to achieve our goals."
The president was greeted with cheers of "O-bama!" from enthusiastic Democrats as he entered the chamber to a loud ovation.
He drew laughs when he opened the address saying he would keep the speech short so that presidential candidates could resume their campaigning in Iowa.
Turning serious, the president said, "We live in a time of extraordinary change — change that's reshaping the way we live, the way we work, our planet and our place in the world.
"It's change that can broaden opportunity or widen inequality. And whether we like it or not, the pace of this change will only accelerate."
Signaling he has no intentions of being a lame duck during his final months in office, President Obama also cited criminal justice reform, trade and poverty reduction as areas where he thought compromise might be possible with Republicans in Congress.
He also called for lawmakers to ratify a long-sought Pacific trade pact, advance tighter gun laws and lift an embargo on Cuba.
The president also pressed for an end to "gerrymandering," the practice of drawing voting districts in ways that gives advantage to a particular party; reducing the influence of "dark money" or political spending in which funding sources do not have to be disclosed; and making voting easier.
He also pledged to continue to work to close the U.S. prison at Guantanamo Bay, Cuba.
President Obama also said he had tasked Vice President Joe Biden, whose son died last year of cancer, to lead an effort to find a cure for the disease.
One of his biggest disappointments, the president said, was not being able to elevate U.S. political discourse during his time in office.
"It's one of the few regrets of my presidency — that the rancor and suspicion between the parties has gotten worse instead of better," he said.
President Obama sought to contrast his more optimistic view of America's future with those of the Republican candidates trying to replace him.
Afterward, the president's address drew widespread praise from Democrats and mostly derision from Republicans.
Congressman Robert C. "Bobby" Scott of Newport News, whose district includes portions of Richmond, praised the forward-looking speech and said in a statement, "By working together we can accomplish even more great things on behalf of the American people."