Personality: Jeree M. Thomas
Spotlight on inaugural winner of the youth justice Emerging Leader Award
7/8/2016, 5:30 p.m.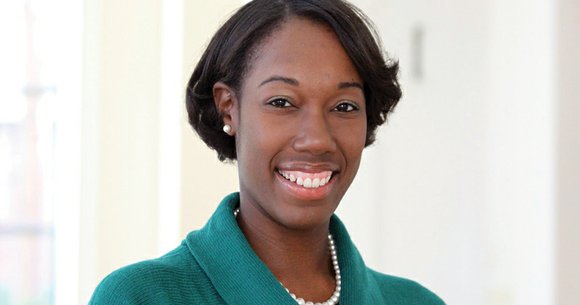 Mrs. Thomas considers herself "very, very blessed" to have obtained work with a nonprofit legal organization when she graduated from the University of Virginia Law School in 2011. Her work with JustChildren will end in two weeks when she becomes the Campaign for Youth Justice policy director in Washington. She expects to travel throughout the nation in her new role focusing on keeping young people out of adult courts and adult prisons and jails. Meet this week's Personality, child advocate Jeree Thomas.
Date and place of birth: Nov. 4 in Fort Jackson, S.C.
Current residence: Chesterfield County.
Family: Husband, Benjamin Thomas.
Alma maters: The College of William & Mary, bachelor's degree in social justice and community advocacy. University of Virginia School of Law, juris doctorate.
My principal work as a lawyer: I directly represent youth and families experiencing issues in the education and juvenile justice systems. I spend a lot of time providing technical assistance to attorneys and organizers who are trying to support their clients and communities.  
Greatest challenge: As a lawyer, I am limited by the letter of the law. There are times when treatment is clearly unjust, but not illegal. That is, in part, why I enjoy doing policy work in addition to direct representation of clients. I can advocate for better policies for my clients. 
Greatest satisfaction: When my clients tell me, no matter the outcome, that they are satisfied that someone fought for them. Also, the random great moments, like a client asking me to attend his high school graduation or getting to take two former clients, who are now budding advocates, to the White House for Youth Justice Awareness Month last year.  
JustChildren is: A program of the Legal Aid Justice Center that serves youths and families experiencing issues in the education and juvenile justice systems through direct representation, policy advocacy and community organizing. 
Services provided: JustChildren attorneys represent clients who have special education or school discipline-related needs. We also represent youths who are incarcerated in their serious offender review hearings, and with their education, treatment and re-entry.  
How I got news about the award:  I was on a train coming back to Richmond, and the email about the award actually went to my junk folder because my email account didn't recognize the sender. I received a number of emails congratulating me, and I didn't know what for until one of my colleagues said, "Jeree check your email, check your junk folder!"
Reaction: I was really overwhelmed by the news. It is truly an honor to be recognized in this way. 
Meaning of award to me: I recently participated in a Youth Justice Leadership Institute with nine other incredible advocates from across the country. I've been so blessed to get to know them.  I know the talent, drive and passion that is out there to change things for the better for kids. To be recognized as an emerging leader in youth justice is truly an honor.  
When I knew law was for me:  About 10 years ago, I decided while volunteering at an alternative program for youths who were suspended and expelled from their traditional schools that I wanted to be a child advocate. I remember coming to that revelation while crying in my car over a traumatic event that one of the students was experiencing.