GRTC route cuts scheduled for Aug. 21
7/13/2016, 7:25 a.m.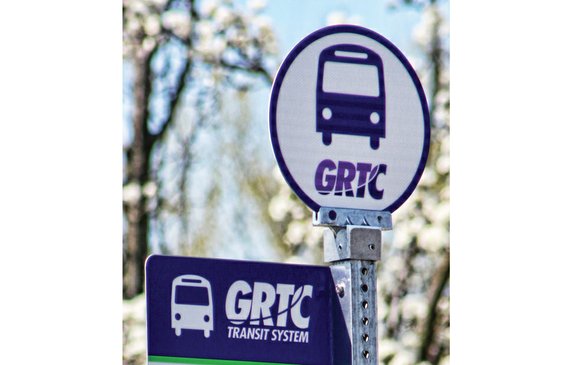 GRTC plans to eliminate two bus routes in Richmond and shrink service on a third city route later this summer to cut costs.
The cuts come amid the transit company's preparations for the start of construction of the $63 million Bus Rapid Transit service that is expected to be in operation within 16 months.
While officials are promising speedier service on BRT's planned 7.6-mile route between Rockett's Landing to the east and The Shops at Willow Lawn to the west, BRT's impact is still a question mark. The Greater Richmond Transit Co. is acting to avoid red ink during the 2016-17 budget year that will end next year on June 30.
The company, which eliminated two other routes in 2014 to save money, is proposing the following service cuts effective Aug. 21:
• Eliminating Route 11, which provides service to the Richmond Justice Center, the Oliver Hill Juvenile and Domestic Relations Court and the Mosby Court public housing community.
• Eliminating Route 66 express service between Downtown and The Shops at Spring Rock Green at Midlothian Turnpike and Chippenham Parkway in Chesterfield County, near the city line.
• Reducing service on Route 16 Grove between Downtown and Carytown. Runs would be eliminated between 10:30 a.m. and 3 p.m.
Route 11 averages 725 riders a week, Route 66 Express carries about 360 people a week, while Route 16 serves about 1,700 people weekly, according to GRTC statistics.
The reductions are expected to save GRTC $360,000 a year, according to company spokeswoman Carrie Rose Pace.
When the changes are complete, GRTC will have 29 regular routes and one express route within Richmond, Ms. Pace said. The company also will have five additional routes that serve both the city and Henrico County along with other express runs, including six to Henrico, one to Chesterfield County, one to Petersburg and one to King's Dominion.
"GRTC does not expect to see a significant decrease in ridership," Ms. Pace stated in response to a Free Press query.
She noted that riders served by the three routes "will be able to use other routes."
For example, she said Route 43 Whitcomb-Fairfield is being adjusted to provide riders with access to the city's jail, juvenile court and detention center.
Meanwhile, the Route 4 Rollins-Belmont route was "extended to Carytown in January" and will provide "riders who rode the Route 16 bus the opportunity to still access the Carytown service areas," she stated.
Riders using the Route 66 Express will have to catch the Route 64 Express that links Stony Point and Downtown, she added.
While GRTC is a regional transit system, its main patron, the city government, has declined to increase its $12.3 million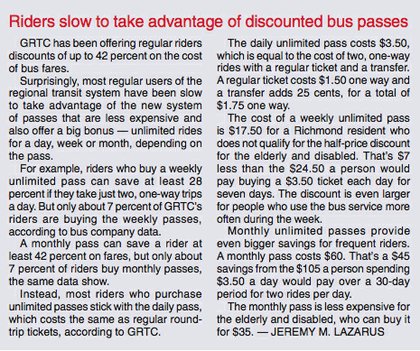 subsidy to the company since 2014. At the same time, income from fares is not going up, nor have federal and state subsidies increased much.
While the company has been able to save money because of the lower cost of diesel fuel, the savings have been offset by small annual wage increases for drivers and by the rising cost of health insurance.
Prospects for future boosts in city subsidies for regular bus service remain dim. When the BRT service begins, the city is projected to have to provide an additional $700,000 a year to subsidize that service. The BRT subsidy would need to be even larger if the mayor and Richmond City Council carry through on promises to improve East End links to the BRT service.