Chief Brown no stranger to tragedy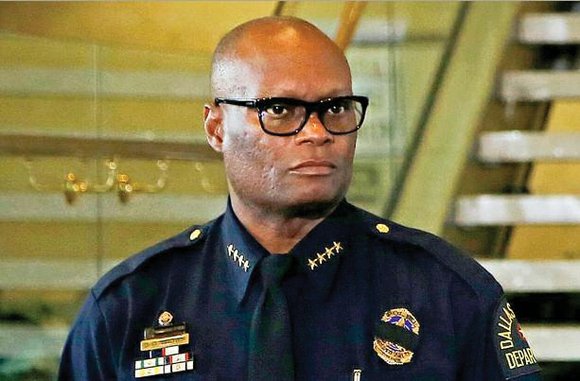 Dallas Police Chief David O. Brown, a familiar face following last week's shooting deaths of five police officers in Dallas, is no stranger to tragedy.
A 30-year veteran of the Dallas Police Department, Chief Brown grew up in the city and became chief in 2010. His former police partner was shot and killed in 1988. His brother was killed three years later.
In 2010, Chief Brown's own son shot and killed a police officer and another man while high on PCP before being shot at least nine times by police and killed, according to the Dallas Morning News.
Reportedly a tough and introspective boss, in recent months Chief Brown has faced criticism and calls for his removal, including from his own officers, amid a rising violent crime rate. He also has been questioned about controversial terminations and demotions of some officers.
Chief Brown was only a few weeks into his new job as chief in June 2010 when, on Father's Day, his 27-year-old son, David Brown Jr., shot and killed Jeremy McMillian, who was driving his girlfriend and two small children through the neighboring city of Lancaster. Mr. Brown then shot and killed Lancaster Police Officer Craig Shaw, who responded to the shooting. Other officers then fatally shot Mr. Brown.
A few days after the killings, Chief Brown reached out to the Lancaster Police Department, asking to meet with the families of Mr. Shaw and Mr. McMillian, former Lancaster Police Chief Keith Humphrey told the Los Angeles Times. He even quietly attended Mr. Shaw's funeral, which was right after his son's.