Clinton, Trump win Super Tuesday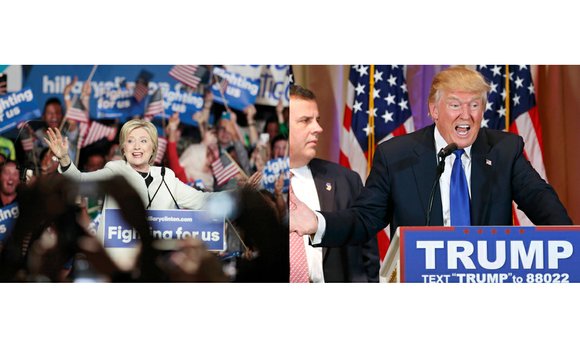 The braggadocious businessman with a potty mouth swept much of the South, raising alarms among some in the GOP who view Mr. Trump as splintering their party and making it easier for Mrs. Clinton to win the White House.
His most significant rival, U.S. Sen. Ted Cruz, won his home state of Texas, the night's single biggest prize, as well as Oklahoma and Alaska to keep his campaign alive. And Sen. Rubio scored his first win in Minnesota.
Still, Sen. Rubio is expected to drop out of the nominating contest if he fails to win the March 15 GOP primary in his home state of Florida, where polls now show Mr. Trump with a 20-point lead.
Signaling her confidence, Mrs. Clinton appeared to pivot to focus on Mr. Trump as she addressed supporters Tuesday night during her victory rally in Miami.
"It's clear tonight that the stakes in this election have never been higher and the rhetoric we're hearing on the other side has never been lower," she said.
Dismissing Mr. Trump's campaign promise to "make American great again," Mrs. Clinton said, "America never stopped being great." Instead, she called for more "love and kindness" as she tried out her new theme to "make America whole."
At his victory party, Mr. Trump also looked ahead to his matchup with Mrs. Clinton, portraying her as part of the political establishment that has failed Americans.
"She's been there for so long," Mr. Trump said at his Mar-a-Lago resort in Florida. "If she hasn't straightened it out by now, she's not going to straighten it out in the next four years."
Along with Virginia, Mr. Trump also won GOP contests in Arkansas, Massachusetts and Vermont as well those in Alabama, Georgia and Tennessee.
The two other candidates in the race, retired neurosurgeon Ben Carson and Ohio Gov. John Kasich, trailed badly in most of the contests. And on Wednesday, Dr. Carson indicated he planned to quit the race on Friday. Gov. Kasich said he would drop out if he could not win the winner-take-all GOP primary contest in his home state in two weeks.
Mr. Trump's victories have rattled Republican leaders and contributors, with some observers now saying there is a civil war for the soul of the party.
While Mr. Trump professed to have good relationships with his party's elite, he showed that he will be tough on them as he issued a warning to House Speaker Paul Ryan, who declared earlier in the day that "this party does not prey on people's prejudices."
Mr. Trump said that if the two don't get along, "he's going to have to pay a big price."
All efforts to stop Mr. Trump have failed, including an aggressive campaign to discredit him by the two senators, with Sen. Rubio calling the front-runner "a con man" repeatedly ahead of Super Tuesday and Sen. Cruz describing Mr. Trump as a liberal who has donned conservative garb.
On Tuesday, Sen. Rubio failed to live up to the wider hopes of the numerous Republican officeholders who have promoted him as the party's best alternative. With his campaign flagging, Sen. Rubio vowed to keep up efforts to "unmask the true nature of the front-runner in this race" as he and others pushed the hope of keeping Mr. Trump from winning enough delegates to win on the first ballot at the party's convention.
Sen. Cruz has beaten Mr. Trump in four contests this primary season, a fact he wielded as he called on Sen. Rubio and other candidates to step aside.
However, Sen. Cruz has had little impact on voter support for the brash New York real estate mogul who has carved into Sen. Cruz's base — evangelical Christians and social conservatives.
In six of the states on Tuesday, large majorities of Republican voters said they supported Mr. Trump's proposal to temporarily ban all non-citizen Muslims from entering the United States.
Nine in 10 of Mr. Trump's voters were looking for an outsider, and half were angry with the government, according to exit polls conducted by Edison Research for The Associated Press and television networks.