State senator launches bid for Congress
3/22/2016, 6:11 a.m.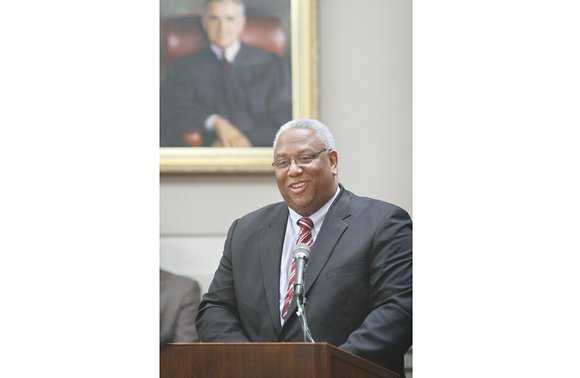 State Sen. A. Donald McEachin formally announced his candidacy for the open seat in the 4th Congressional District.
Richmond and Eastern Henrico are now part of the 4th District, which has been represented by Republican Congressman J. Randy Forbes. However, Rep. Forbes announced he will give up the seat and run in the 2nd Congressional District.
Sen. McEachin, a 54-year-old Democrat and personal injury attorney, was re-elected last year to a third term in the state Senate. He will not have to give up his General Assembly seat to run for Congress.
While he's the first to announce for the congressional seat, he could face competition for the Democratic nomination in the June primary.
His substantial legislative experience makes him a formidable candidate. He served four terms in the House of Delegates before being elected to the Senate in 2007. He also ran unsuccessfully for attorney general in 2001.
In his announcement Tuesday, Sen. McEachin stated that he wants to go "to Washington to continue to make a difference."
"I have dedicated my career to fighting for the underdog in my law practice and have over a 10-year record in the General Assembly of standing up for human rights, for seniors, for veterans and for those at the margins. I'm running for Congress because I've had enough of the backward agendas and hateful language in Washington," he said.
"I've had enough of Republicans attacking civil rights, voting rights and human rights of Americans. I've had enough of Republicans trying to tell women how to control their own bodies and their own health care decisions.
"And I've had enough of Republicans slashing Social Security, Medicare and education funding while protecting tax cuts for millionaires and billionaires.
"In Washington, I will work every day to ensure everyone has an opportunity for a good job with good wages," to support funding for public schools, to ensure veterans have needed health care and services, to protect the environment, to preserve Social Security and Medicare and to support equal rights.
Meanwhile, Henrico County Sheriff Michael Wade plans to seek the Republican nomination to run for the seat.
The 4th Congressional District also includes Petersburg and Hopewell and stretches to Chesapeake in Hampton Roads.
Richmond used to be in the 3rd Congressional District, but was shifted to the 4th District as a result of federal court rulings. The rulings found the 3rd District included an excessive number of African-American voters, diluting the voting strength of African-American voters in neighboring districts. The federal court then changed the congressional district boundaries, including moving Richmond with its majority-black population, to the 4th Congressional District.
The move opened the door for Virginians to elect more than one African-American to Congress. — JEREMY M. LAZARUS