Trojans picked to dominate CIAA basketball
11/11/2016, 11:55 p.m.
It doesn't get much better than this.
If Virginia State University's basketball forecast were any brighter, you'd need a visor and wrap-around shades to read this preview.
Consider:
• The Trojans are coming off their best season in history. The team had a 24-6 record, won the CIAA basketball championship and advanced to the second round of the NCAAs last season.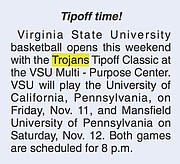 • A majority of the difference-makers are back, including All-CIAA seniors Elijah Moore and Kevin Williams.
• More gold was struck on the recruiting trail.
• And to top it all off, the Trojans are about to begin their first full season in the sparkling VSU Multi - Purpose Center, the jewel of the CIAA and among top facilities in all of the NCAA Division II.
Not surprisingly, VSU has been picked to repeat as CIAA champs in a preseason vote of league coaches.
With all the claims to fame comes something else: The challenge of living up to expectations.
"Our slogan is 'Accept the Challenge,' because we know we'll be challenged every night," said Coach Lonnie Blow Jr., who was the CIAA Coach of the Year last season.
"We'll have a target on us. We'll be the big game on a lot of schedules. We'll see their best."
VSU's brimming talent pool starts with Williams, the 5-foot-11 whirlwind Coach Blow unashamedly compares to Allen Iverson.
"Kevin is a dynamic athlete-player," said Coach Blow. "Plus, he has continued to get better."
Williams averaged 15 points last season, with 54 3-pointers, 54 rebounds and 50 steals, and oozes with pizzazz.
On the inside, VSU features 6-foot-8 Moore, who averaged 15 points and six rebounds.
Making All-CIAA freshman a year ago was 6-foot-4 Walter Williams from Henrico High School. Williams averaged 7.3 points, while hitting 40 3-pointers.
Primary ball handling is shared by Tyler Peterson and Waymond Wright, who combined for 197 assists.
Then there are "The Melvins" — 6-foot-3 Cyonte Melvin and 6-foot-8 Melvin Gregory.
Melvin averaged 6.6 points in just 13 minutes per game. Gregory is a long-limbed, 6-foot-8 rim protector who blocked 28 shots in just 16 minutes per game.
Amiel Terry, at 6-foot-9, also is effective in the low post.
Success breeds success, and Coach Blow landed some tall talent on the recruiting circuit.
Newcomers include 6-foot-8 Richard Granberry from Neosho County Community College in Kansas, 6-foot-7 Ken Woodard from the University of Charleston in West Virginia, and intriguing 6-foot-9, 330-pound Matt Murphy from Thomas Edison High School in Alexandria.
Proving he is more than just a big guy, Murphy had 5 points, including a tip-in and a 3-pointer, and five rebounds in VSU's exhibition game Oct. 28 in North Carolina against Duke University.
"Matt's got good footwork, great hands — even a good dancer," said Coach Blow. "He'd make a great football left tackle."
Coach Blow compares Murphy to Levi Brown, whom he coached at Granby High School in Norfolk. Brown went on to star as an offensive lineman at Penn State University and was an NFL first round draft pick in 2007 by the Arizona Cardinals.
Murphy has played previously at Radford and Christopher Newport universities.
The only freshmen on VSU's roster are Andrew Corum at 6-foot-7 from Leesburg and 6-foot-5 Jhalen Thomas from Varina.
VSU won last winter's CIAA championship with double-digit wins three straight nights at the tournament in Charlotte, N.C.
It was the Trojans' first opportunity to cut down the nets since 1988, way before any of the current players were born.
With so much going for them, the wait for the next title may not be nearly so long.