Newest Rhodes Scholars are Richmonder at Howard, U.Va. students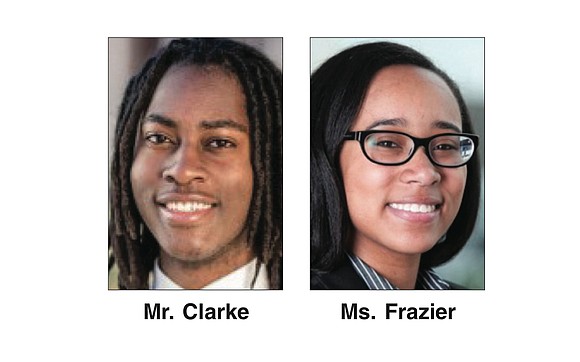 A Howard University senior who lives in Richmond and a University of Virginia senior from Maryland are among 32 Americans chosen as 2017 Rhodes Scholars.
Cameron D. Clarke, who is from Jersey City, N.J., and lives in Richmond, and Aryn Frazier from Laurel, Md., were chosen from 882 applicants endorsed by 311 colleges and universities for the prestigious scholarship.
The winners, announced on Sunday, will receive full scholarships to pursue degrees at the University of Oxford in England.
Mr. Clarke is the fourth Rhodes Scholar in Howard University's 150-year history. He is double majoring in community health education and biology.
According to his LinkedIn profile, he graduated from McNair Academic High School in Jersey City, N.J., in 2013. He plans to attend medical school after conducting research for a master's in primary health care during his time at Oxford.
"We are extremely proud of Mr. Clarke's accomplishment," said Howard University President Wayne A.I. Frederick. "Mr. Clarke's academic pursuits will lead to solutions in the broader society that are needed ever more so today. Cameron is the epitome of Howard University's gift of solutions to the world."
Mr. Clarke is a certified EMT and has authored six publications. He is co-president of Howard University's chapter of the Peer Health Exchange and serves as a news editor of the university's student newspaper, The Hilltop.
Mr. Clarke also is a congressional intern with the House Committee on Science, Space and Technology.
Ms. Frazier, 20, is double majoring in African-American and African Studies and the Honors Program of the Department of Politics at U.Va. She plans to pursue a master's of philosophy in comparative politics at Oxford.
She is president of the university's Black Student Alliance, is involved with the Legal Aid Justice Center's youth leadership program and has run for several elected offices.
Ms. Frazier is a Jefferson Scholarship recipient and a peer adviser for the Office of African American Affairs. She is a contributing columnist for the Cavalier Daily, an independent student newspaper, and the recipient of the NAACP at UVA Outstanding Leader Image Award.
Ms. Frazier's selection, along with that of U.Va. senior Lauren Jackson, 21, of Little Rock, Ark., makes them the 52nd and 53rd Rhodes Scholars from the state university in Charlottesville. Ms. Jackson, who is majoring in social and political thought, plans to pursue a master's in international relations while at Oxford.