Trump creates chasm in GOP with lewd tape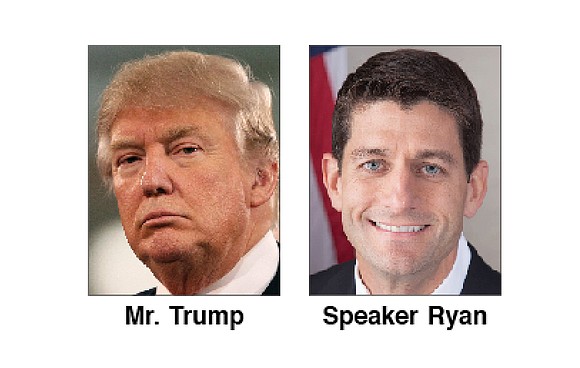 Republican presidential candidate Donald J. Trump ignited his base — and opened a chasm with the GOP leadership and many supporters — with a second debate performance in which he threatened to jail his Democratic opponent, Hillary Clinton, if he is elected.
During the 90-minute debate held last Sunday at Washington University in St. Louis, he dismissed a tape of his explicit comments about grabbing women's genitals and exploiting them for sex as mere "locker room talk," and argued with the debate moderators, claiming they didn't understand what he said on the tape.
After the 2005 audiotape was leaked by "Access Hollywood" staff and reported Friday by The Washington Post, Mr. Trump and his top campaign staff spent the weekend huddling in his Manhattan Trump Tower plotting strategy in hopes his latest outrage would not repel conservative voters who are key to the GOP's hopes for recapturing the White House.
As the immediate backlash against Mr. Trump mounted, he released a video later Friday apologizing for the comments, but arguing that President Bill Clinton was "far worse" and Mrs. Clinton was complicit in covering up for her husband.
Dozens of Republican officials began withdrawing their endorsements of Mr. Trump or calling on him to step down from the presidential race. His campaign appeared to be in freefall.
Even after Sunday's debate, in which he continued to try to dismiss his comments when questioned by moderator Anderson Cooper of CNN, many Republican leaders nationally and in Virginia said they would not publicly support Mr. Trump outright, but explained that the election is between "no good choices."
"I wish this debate was about issues, not people," said Henrico Sheriff Mike Wade, who is running for Congress in the newly redrawn 4th District that represents much of Richmond and Petersburg. "I do plan on voting for president, but I would rather not share" who he intends to support, he said.

Republican leader William J. "Bill" Howell of Fredericksburg, speaker of the Republican-led Virginia House of Delegates, told the Free Press through a spokesperson that Mr. Trump's 2005 comments were "repugnant, offensive and cannot be tolerated."
While Speaker Howell has "endorsed the party's nominee in the past," he now is focused on leading and governing here in Virginia, his spokesman Matt Moran said.
Senate Majority Leader Thomas K. "Tommy" Norment, a Republican from James City County, declined to address the issue of his support in the presidential race.
Many Republicans seem to be following the advice of leading Republican Paul Ryan of Wisconsin, speaker of the U.S. House of Representatives, who said he no longer would defend or campaign with Mr. Trump. Speaker Ryan canceled Mr. Trump's invitation to appear and speak last Saturday at a campaign event in Speaker Ryan's Wisconsin congressional district.
Speaker Ryan told GOP House members in a conference call Monday, "You all need to do what's best for you in your district." He did not say that he was rescinding his endorsement of Mr. Trump.
The Republican National Committee held an emergency conference call on Monday evening led by its chairman, Reince Priebus. Mr. Priebus reassured that the committee is in full coordination with the Trump campaign.